Transportation & Infrastructure Lighting Solutions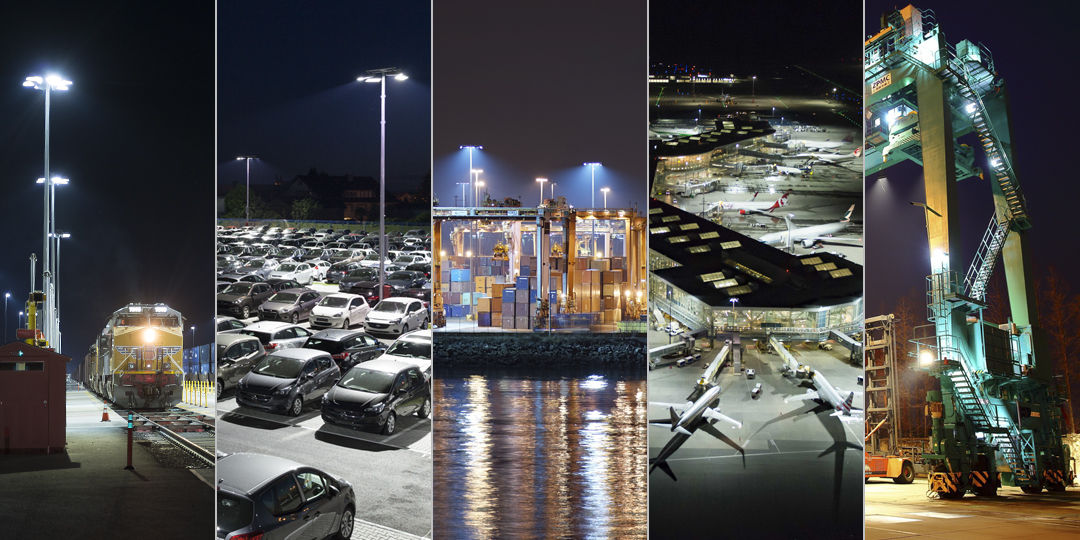 Whether it's the Bay Bridge, Mount Rushmore, Las Vegas' McCarran International Airport, or some of the largest docks and port terminals in the world, every transportation and infrastructure lighting project brings its own set of challenges.
We help our customers overcome those challenges. Our engineers will work closely with you to understand your specific needs and design a customized solution that ensures the highest quality light, precise control, energy efficiency, and the safest environment possible.
A Proven System
Our LED lighting incorporates lighting, structural, and electrical components, offering the most reliable solutions for airports, bridges, construction sites, parking lots, industrial facilities, rail yards, distribution centers, ports, and facades.
Delivers light with pinpoint precision and reliability, offered as a complete solution from foundation to poletop or on existing structures.
Musco has teamed up with ADB SAFEGATE to offer a cost-effective option for high-mast LED apron lighting.
Services
The only system monitoring service of its kind, Control-Link® lets you schedule and control your lights from a smart phone, web page, or our 24/7 call center, and enables us to know when a problem arises before you.
Our dedicated team provides design work throughout the planning process and project management to ensure trouble-free installation.
Our patented solutions can be customized to meet your unique needs through our special build and fabricating capabilities.
Our team of technicians can be on site to perform anything from light level testing to maintenance for out of warranty systems.
Recent Projects
Vancouver International Airport Improves Operations and Efficiency with LED System
Florida East Coast Railway Reduces Operating Costs with Musco's Light-Structure System™
Musco's Light-Structure System™ Saves Landfill $400,000 in Construction Costs
Click here
to view more projects.
---
"We are glad to partner with Musco Lighting, which is a leading company in lighting technology. The projects which were executed so far contributed to energy savings as well as serving DP World's continuous efforts towards supporting green technology initiatives."