Vitality Stadium — Home of AFC Bournemouth
Bournemouth, England, U.K.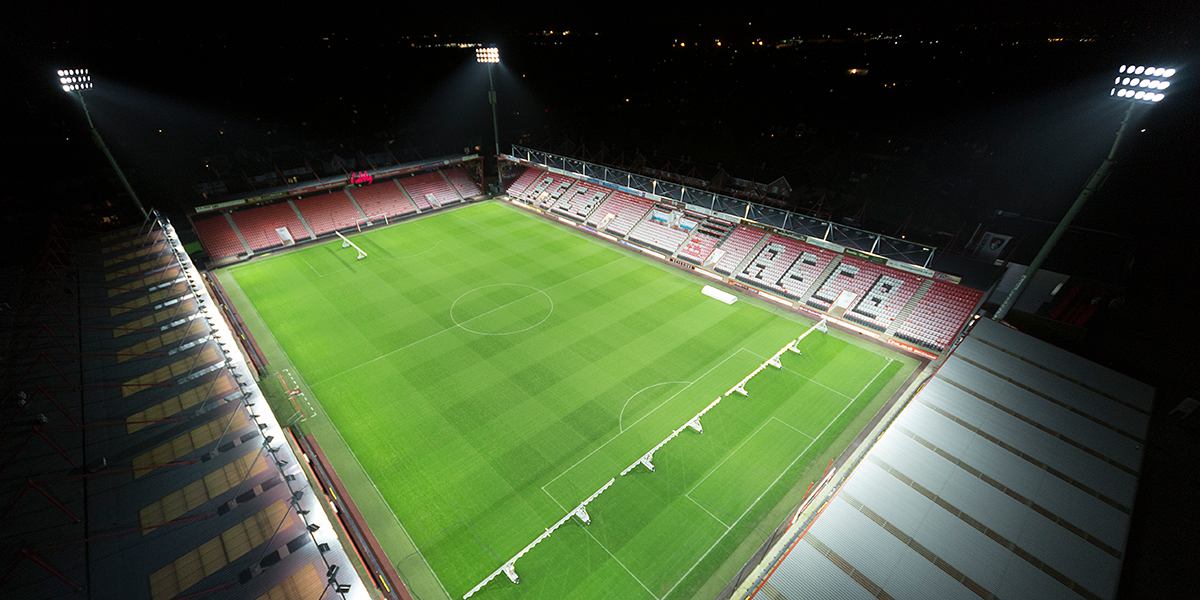 AFC Bournemouth Enters Premier League in Premier Fashion
"We are really pleased with the installation of our new LED floodlighting system. On promotion this season, we needed to install a new pitch lighting system to meet the requirements of both the club and the Premier League in a fairly short space of time. Musco delivered on all counts, providing a flexible and professional approach."
— Liz Finney
General Manager
AFC Bournemouth
After achieving promotion to the English Premier League, AFC Bournemouth was informed that upgrades to Vitality Stadium's lighting would be necessary in order to comply with the Premier League's lighting requirements.
For the new lighting system at the stadium, they chose to partner with Musco, the recognized global innovator in sports lighting. With the new system in place, fans of the Cherries will enjoy a truly enhanced match-day experience with the elimination of glare and a much brighter and uniform light distribution across the ground. In fact, light levels at Vitality Stadium have increased by 75 percent.
With the increase in light levels, energy consumption has only increased by 18 percent compared to the prior metal halide lights, and operating costs have been significantly reduced with Musco's parts and labor warranty, which eliminates maintenance for the next decade.
The new lighting system met the approval of the Premier League, and delivers exceptional HD broadcasts and slow motion replay with the elimination of the 'flicker' effect.
Vitality Stadium Photo Gallery
More stories from musco.com