Bracewell Stadium
Burlington, Iowa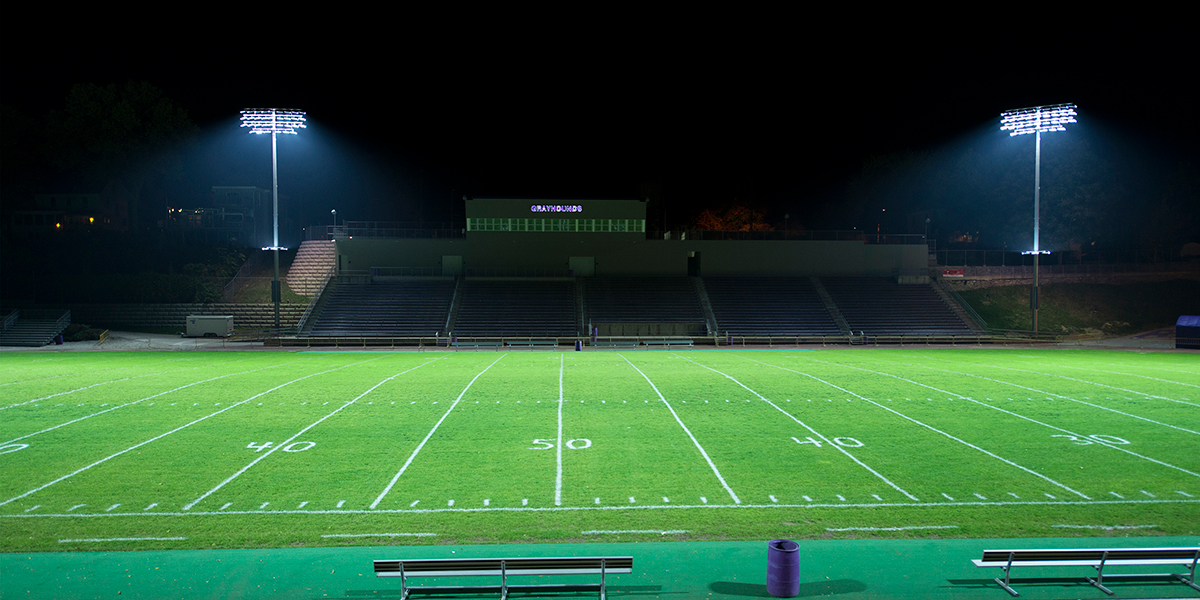 Friday Night Lights Shine with LED in Burlington
"Our renovated stadium is now one of the most unique and high tech high school football fields in the nation with its new LED lights. Musco did a fantastic job on delivery, installation and most important, the design of these new stadium lights. The new LED lights provide a crisp clear white light that is second to none. Our players, coaches, fans, and neighbors love the look, feel and playability of these state of the art energy efficient lights."
— Kevin Mueller
President
Purple and Gray Foundation
It was 1929 when, in Burlington, Iowa, the high school's new Bracewell Stadium became one of the first high school stadiums in the country to host a football game under lights. Now, 85 years later, the venerable stadium once again has made history as the first high school stadium in the country to feature LED lighting.
No stranger to pioneering "firsts" in the world of sports lighting, Musco partnered with the Burlington School District to make the project a reality. With the new LED system in place, the neighborhood around Bracewell Stadium has realized the benefits of a dramatic reduction of light spill and glare coming from the facility at night. Musco's innovative Control-Link® enables the coaches and athletic director at Burlington to turn the stadium's lights on instantly by calling into a 24/7 call center with trained operators or via an easy-to-use web site optimized for desktop and smart phone use.
The new lights—which were debuted at Bracewell Stadium for Burlington's first game on August 29, 2014—enhance the on-field playing experience for the student-athletes, while achieving a total energy savings of 50 percent.
More stories from musco.com