Coastal Cargo Port of Houston
Houston, Texas, USA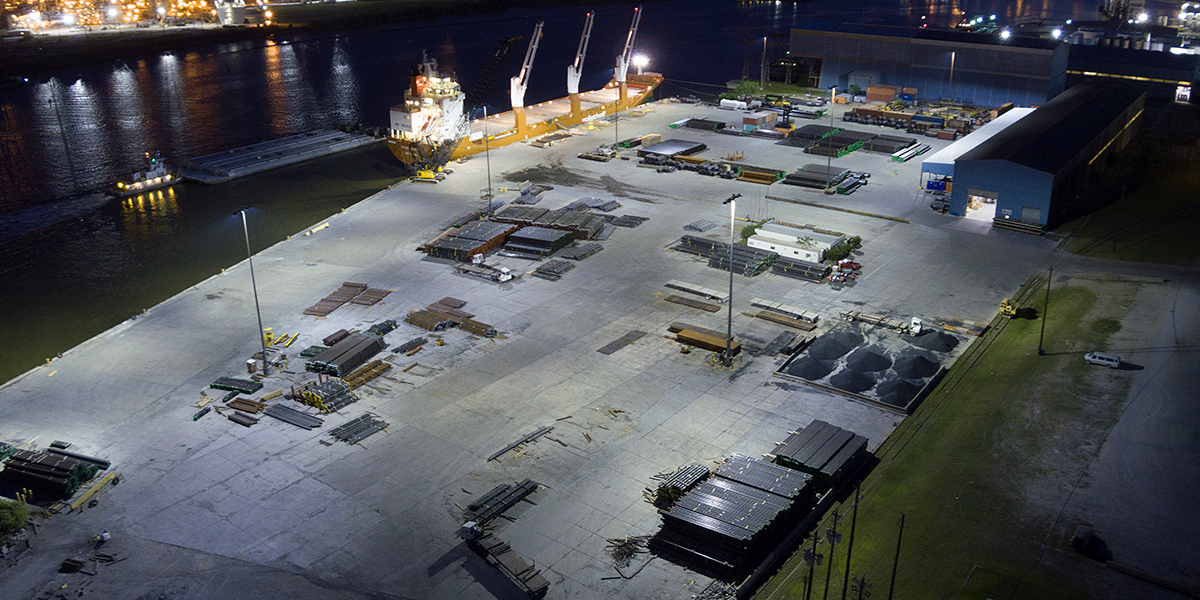 Coastal Cargo Eliminates Spill Light and Improves Worker Visibility with Musco's LED Technology
"Musco Lighting was a very professional and reliable company. Their time frame, from the delivery of equipment to completion was spot on. Due to their lights on our facility we no longer need to rent light towers. This also lowered our cost. We are very pleased and recommend them to anyone."
— Jeremy Galliano
Facility Maintenance Supervisor
Coastal Cargo Company, LLC
Coastal Cargo of Texas (CCTX) operates the Care Terminal in the Port of Houston, situated on a 32-acre site and handling containers, break-bulk, heavy lifts, project, and bulk cargos. When a lighting upgrade was necessary at the facility, project leaders with the company determined that transitioning the 1,000-watt high-pressure sodium lights to an LED system would yield a number of benefits.
As part of their research into potential LED lighting solutions, CCTX project leaders visited other shipyards and cargo facilities to observe the performance of various LED lights. They found a wide disparity between the light quality, control, and reliability of Musco's Total Light Control—TLC for LED® technology and other manufacturers' LED lights. CCTX chose to partner with Musco and have its LED system retrofitted onto the facility's existing poles. Key benefits Musco's system delivered to CCTX include:
Eliminated Light Spill – while the previous lights spilled excessively into the Port of Houston, causing repeated complaints, the new system's superior control meant that the Port would no longer be negatively impacted.
Improved Worker Visibility – CCTX workers are able to better navigate the facility and see containers and paperwork more clearly thanks to the system's uniform distribution of light and visoring technology that eliminates glare at the light source.
Reduced Energy Consumption – the Port of Houston facility will cut its energy consumption by 50 percent compared to the previous HPS lights while increasing light levels.
Zero Maintenance Costs – CCTX won't have to pay for any maintenance to the LED system for 10 years as a result of Musco's long-term warranty that covers every part and all labor.
CCTX will realize a cost-of-ownership savings of more than $250,000 over the next 10 years compared to its previous lighting, with an expected total return on its investment in less than four years.