Copper Sky Aquatic Center
City of Maricopa, Arizona, USA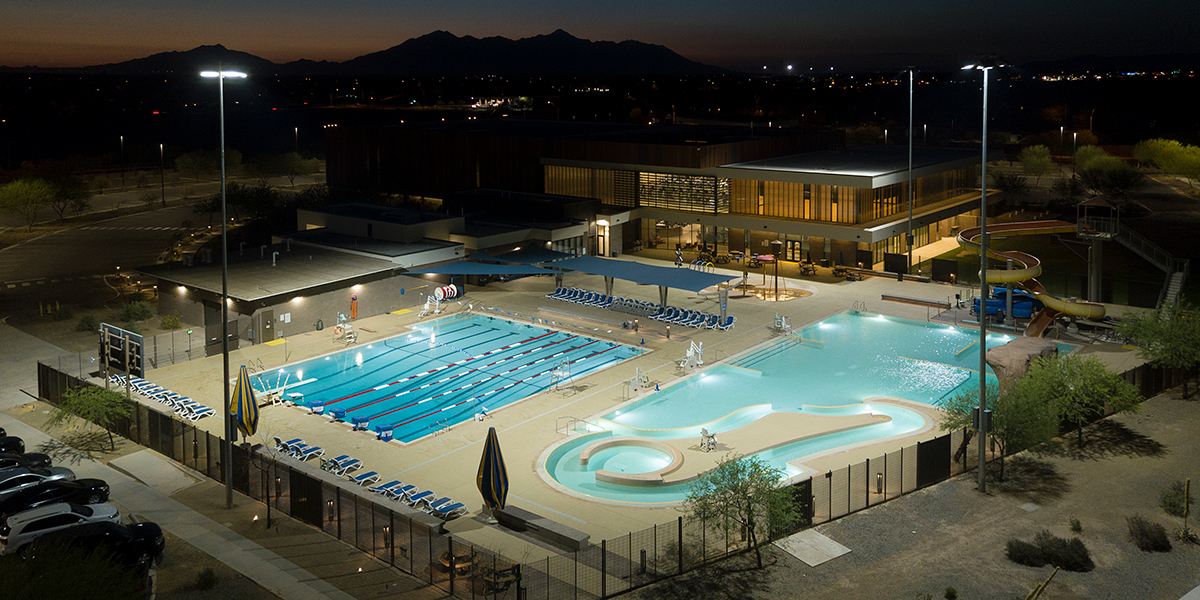 Copper Sky Aquatic Center Eliminates Glare and Extends Hours With TLC for LED® Technology
"The new system gives us scheduling controls, a high, medium and low setting for special venues, and the newest technology available. Musco's Total Light Control gives us peace of mind that our lights are being monitored and any issues that arise are being taken care of."
— Mike Riggs
Copper Sky Crew Manager
City of Maricopa
The City of Maricopa has a long tradition of providing sporting, fitness, recreation, and leisure destinations in Arizona and the Copper Sky Aquatic Center is no exception. As the center became more popular and extending hours of operation became an issue, leadership at Copper Sky made the decision to install a lighting system specifically for the aquatic center. Copper Sky needed a lighting system that provided quality uniform light for extended hours, without producing unwanted spill light or glare into the surrounding neighborhoods.
The city considered a multitude of lighting options and products from different manufacturers before making its decision. Ultimately, the city chose Musco's Total Light Control -TLC for LED technology based on the system's patented glare control and its impressive cut-off which preserves darkness in the surrounding residential area. Other key benefits the city will realize include:
Extends Operation Hours – the center can extend hours of operation into the night which allows Copper Sky to cater to residents who desire night swimming options.
Eliminates Light Spill – the rural area surrounding the pool will not be affected by light spill or glare thanks to Musco's patented visoring technology.
Reduces Energy Consumption – the city reduces energy consumption by 41 percent compared to a typical metal halide system making it a cost effective solution.
Zero Maintenance Costs – Copper Sky will not have to worry or pay for maintenance with Musco's Constant 25 warranty, which covers parts and labor, for 25 years.
Additionally, Copper Sky Regional Park chose to partner with Musco and install lighting at its Amphitheater, which neighbors the aquatic center, to give the City of Maricopa the option of hosting night time entertainment at the venue.