Memorial Stadium
Lincoln, Nebraska, USA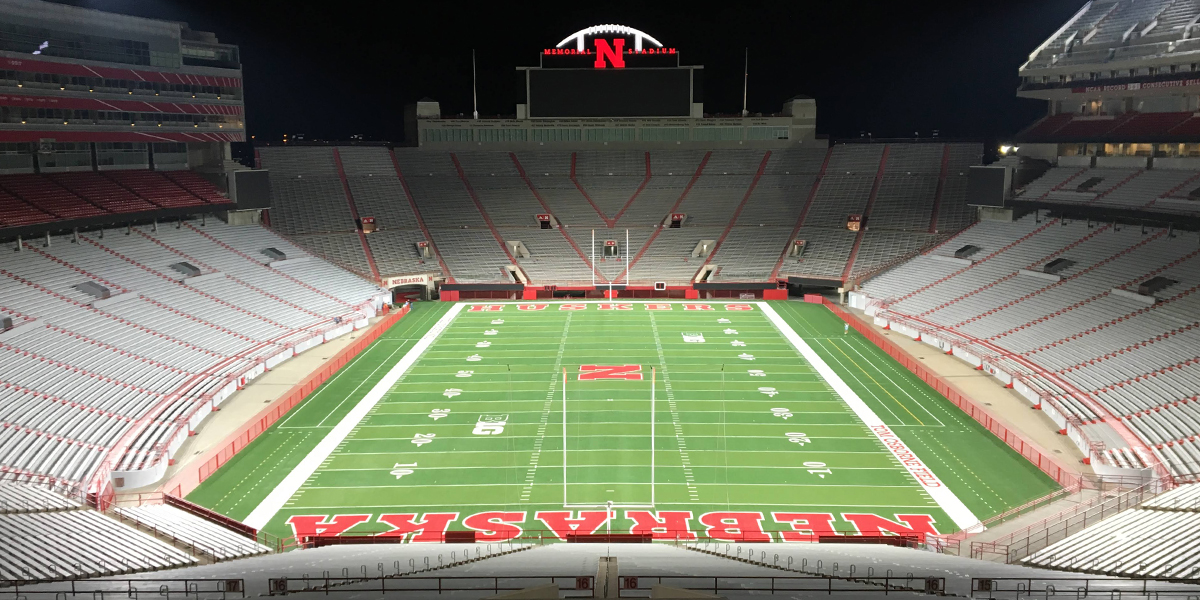 Nebraska's Memorial Stadium Solves Dark End Zones, Efficiency Issues with Musco's LED Technology
"The new Musco lighting system will help take our fan experience to the next level. The new system allows us to create different special effects and really adds to the stadium game day atmosphere."
— John Ingram
University of Nebraska
Associate A.D. / Capital Planning & Construction
Tradition-rich Memorial Stadium, home to the Nebraska Cornhuskers, has been the site of some of college football's most memorable games. It wasn't until 1999 that the stadium was outfitted with permanent lighting, which served the venue for nearly 20 years. Among the shortcomings of those original lights was a lack of uniformity—both end zones appeared slightly darker than the rest of the field—and inefficiency, as they could take 15 minutes to power up.
With those issues in mind, and replacement parts becoming harder to find, the University determined it was time for new lighting. Project leaders were keenly aware of LED and had monitored its evolution over the past few years, wanting to be confident in the technology's reliability and cost-effectiveness before moving ahead with it. After observing Musco's Total Light Control – TLC for LED® technology at other major college venues including Notre Dame Stadium and Los Angeles Memorial Coliseum, they'd found their partner and had the system installed. Key benefits to the University include:
Improved Light Levels and Uniformity – The system's 172 fixtures deliver increased light levels on the field and better uniformity, solving the stadium's issue with uneven light and darkened end zones.
Enhanced Fan Experience – Cornhusker fans, and those of visiting teams, will enjoy new, cutting-edge light shows and special effects thanks to the system's integration with Husker Vision big screen boards around the stadium, as well as for the team's pre-game tunnel walk.
Better Efficiency and System Controls – While Memorial Stadium's previous lighting would take as much as 15 minutes to power up, the TLC for LED system features instant on/off capabilities and will significantly reduce energy consumption.
Improved HD Broadcasts – With all of Nebraska's games broadcast regionally or nationally, fans watching across the country will notice the system's whiter and more uniform light across the field, free from harsh shadows, due to Musco's multi-zone aiming expertise.
Customized System for Reliability – The project included custom-built 30-foot mounting racks for the fixture assemblies to adapt to Memorial Stadium's existing structural supports, as well as internal routing of the fixture harnesses, for streamlined installation and better reliability.
Additionally, with Musco's 25-year warranty covering parts and labor, the University won't have to handle maintenance to the system, or pay for any parts and labor until 2043.