DP World Vancouver
Vancouver, Canada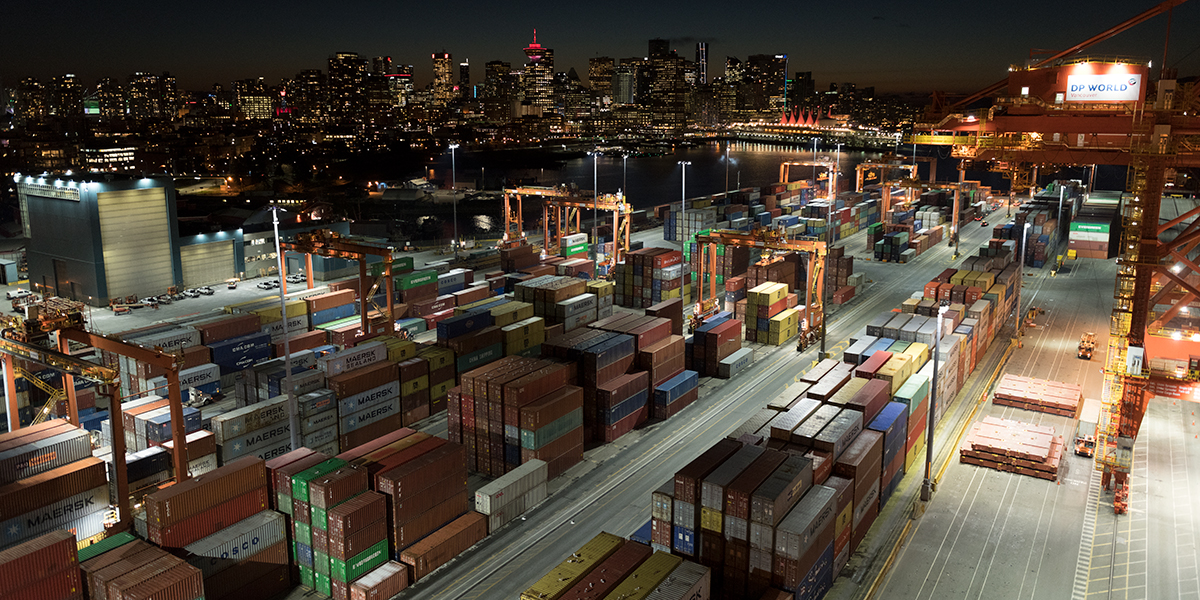 DP World Vancouver Achieves Energy Efficiency and Light Quality Goals With Musco's LED Retrofit
"The output, overall packaging, and engineering of the solution is unparalleled. We didn't find anybody else that could look at the overall problem that we have and engineer a solution that could come out of the truck pre-aimed, already mounted to bars, so we could just crane it up and drop it onto the top of the tower in a very short window. That was huge for us."
— Joel Werner
Engineering & Projects Director
DP World Canada
DP World Vancouver is Western Canada's premier container terminal operator, with a history that stretches back 90 years. In order to meet a global energy efficiency mandate from DP World, as well as Canadian regulation requirements, DP World Vancouver determined it needed a new LED lighting system to replace the existing high pressure sodium lights. Additionally, leaders at the terminal wanted to dramatically improve the quality of lighting throughout the facility and streamline maintenance.
After conducting an exhaustive analysis of a wide range of products over four years, DP World Vancouver determined that Musco's Total Light Control—TLC for LED® technology proved far superior as a retrofit solution for the facility's existing poles. Additionally, Musco's unique system approach to lighting includes remote electrical enclosures near the base of the poles, so DP World wouldn't have to waste the time, money, resources, and planning involved with lowering the towers for maintenance. Other key benefits of the project included:
Improved Visibility – while the previous lighting was very uneven, the new lights achieve a minimum of 50 lux throughout the terminal, enabling employees to read paperwork better and conduct operations more safely.
Total Light Control – the system's patented light and glare control virtually eliminates spill from impacting Vancouver's nearby downtown area, with DP World getting positive feedback from the Port Authority and residential groups.
Customized Retrofit Solution – Musco engineers created a custom design that adapted to the fixed locations of the existing poles.
Reduced Energy Consumption – the new lighting has reduced energy consumption at the terminal by 58 percent compared to the previous lighting.
Zero Maintenance – with Musco's 10-year warranty covering parts and labor, DP World Vancouver won't have to pay for maintenance for a decade and servicing the system has been greatly streamlined.
Installation of the system was able to happen in a way that didn't disrupt any operations at the terminal. And DP World Vancouver received incentive funding from BC Hydro to help cover capital costs, which will help the terminal realize a return on this investment in less than four years.
DP World Vancouver Photo Gallery