JAXPORT – Jacksonville Port Authority
Jacksonville, Florida, USA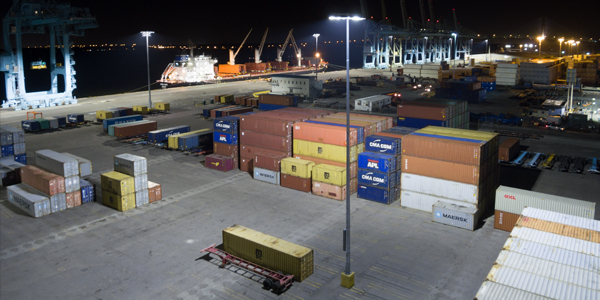 JAXPORT Saves $1.6 Million with Musco's TLC for LED™ Technology
The Jacksonville Port Authority (JAXPORT) in Florida is an international trade seaport located in the heart of the South Atlantic. The port is the number one container port complex in Florida, handling more than 8 million tons of cargo each year.
As part of a $100 million capital improvement plan, the port authority demolished and rebuilt 1,275 linear feet of docks and buildings to increase capacity to hold new cranes. On December 9, 2016, the cranes moved their first container at the Blount Island Marine Terminal under Musco's TLC for LED technology.
The new system provides many benefits to JAXPORT:
Visibility – Provides light where it is needed without producing glare for workers
Reliable Operation – Delivers trouble-free operation with components engineered from foundation to poletop
Light Quality – Controls light with pinpoint precision preventing off-site glare and creating a uniform light in working areas
Efficient Controls – Includes dimming controls to adjust light levels when full output of the system is not needed
No Touch Warranty – Eliminates maintenance and related costs for the next decade with a 10-year parts and labor warranty
Additionally, the new lighting system improved energy efficiency by 67 percent compared to typical metal halide equipment. JAXPORT is expected to save $1,617,000 in energy and maintenance costs over the next decade.
JAXPORT – Jacksonville Port Authority Photo Gallery
More stories from musco.com