Jukasa Motor Speedway
Hagersville, Ontario, Canada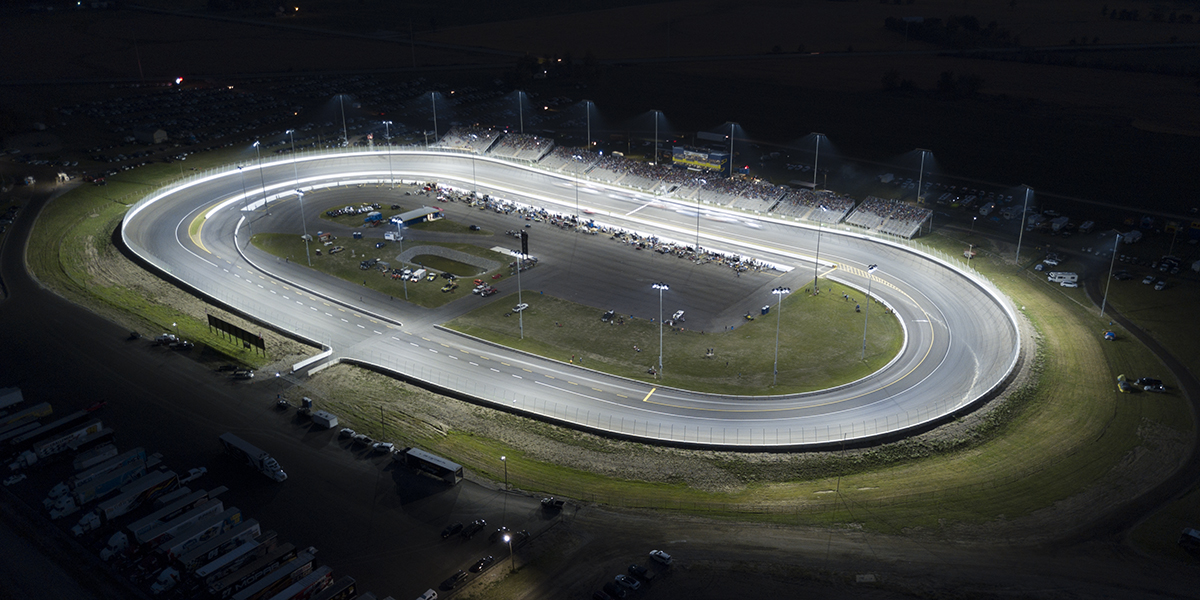 Musco Helps Jukasa Motor Speedway Become First Track in Canada With LED Lighting
"After seeing the performance, functionality, and options this system gives us, we knew Musco's solution was what we were looking for. This investment, along with everything else we're updating, will bring Canada's Crown Jewel back to its rightful place in the motorsports industry. We want to be leaders in our industry, and by becoming the first race track in Canada with an LED lighting system, we're doing just that."
— Alex Nagy
General Manager
Jukasa Motor Speedway
Leaders at Jukasa Motor Speedway have always prided themselves on delivering an unforgettable experience to race fans, teams, and drivers. With the installation of Musco's Total Light Control—TLC for LED™ technology, that experience has been taken to new heights.
Management at Jukasa decided to install new lighting as a way to enhance visibility for drivers and fans in attendance, while also eliminating glare. They explored a wide range of options, and visited other sports facilities to observe the varying levels of performance achieved by different LED lighting solutions. After seeing the functionality, options, and overall performance of Musco's LED technology compared to others, they knew they'd found the right solution for Jukasa. Key benefits include:
Better Track Visibility – the system's custom-designed optics applies light with much more uniform distribution, improving visibility of the track for drivers, teams, and fans.
Reduced Glare – Musco's patented technology virtually eliminates glare from negatively impacting anyone at the track.
Enhanced Special Effects – the system's ability to interface with Jukasa's DMX board helps create an even better entertainment experience for fans.
Improved Energy Efficiency – with instant on/off capabilities and greater efficiency of the LED source, CO2 emissions at Jukasa will be reduced by 3,872 tons over the next 25 years compared to typical metal halide equipment.
Zero Maintenance Costs – the new lighting is backed by Musco's 25-year warranty covering parts and labor, eliminating maintenance costs at the track.
With the new LED system in place, Jukasa's energy and operating costs will be reduced by $1,040,000 over the next 25 years.
Jukasa Motor Speedway Photo Gallery