Kent Stein Park
Muscatine, Iowa, USA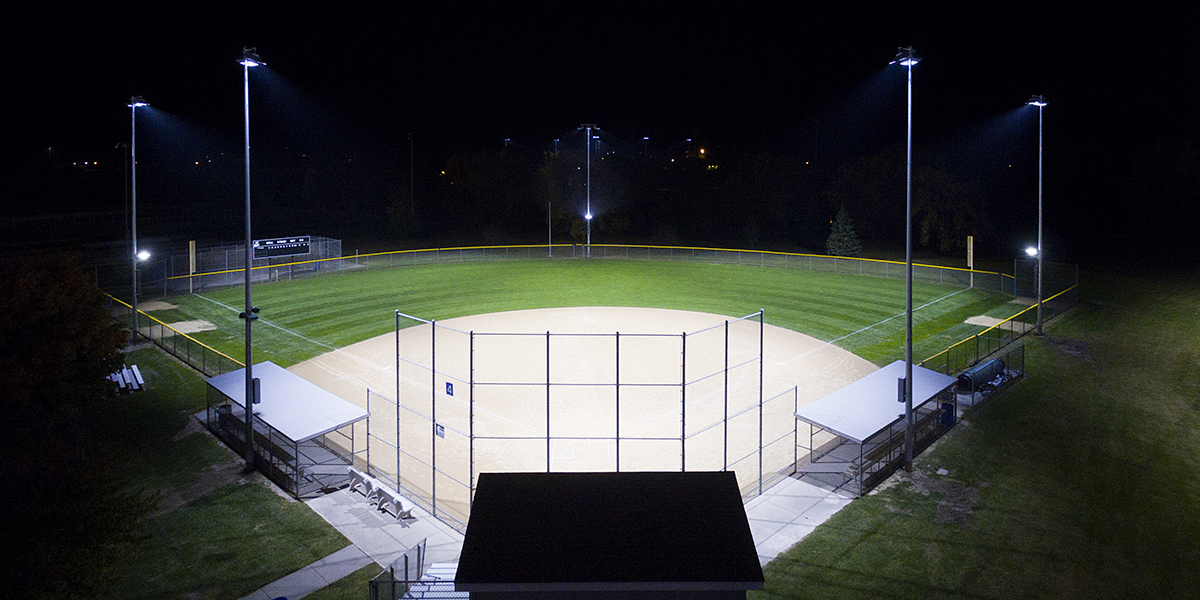 Kent Stein Park Showcases Versatility of Musco's LED Technology
Welcoming approximately 100,000 visitors annually, Muscatine's Kent Stein Park is a multiple-field, multi-sport park that hosts regional and even national tournaments. With baseball, softball, and soccer fields, Kent Stein needed a lighting solution versatile enough to meet the distinct on-field lighting needs of different sports, while also reducing off-site glare and spill to ensure the preservation of darkness around the park.
Musco's TLC for LED™ system technology was retrofitted onto existing support poles at the baseball, softball, and soccer fields at Kent Stein. The industry-leading solution features patented glare control technology, as well as Musco's BallTracker™ light management system for aerial sports. Key benefits of the new lighting include:
On-Field Light Quality – The new lighting achieves 50 horizontal footcandles infield and 30 horizontal footcandles outfield on the baseball and softball fields, and 30 horizontal footcandles on the soccer field.
Playability – Musco's innovative BallTracker™ light management system and five-pole system design enhances player visibility like never before.
Light Control – Patented light and glare control technology within the TLC for LED™ system virtually eliminates glare and spill around the park
Reliability – Musco's system-based technology includes lighting, structural, and electrical components designed to work together for lifelong reliability and trouble-free operation.
Energy Efficiency – Energy consumption at the softball field has been reduced by 60 percent, at the baseball field by 56 percent, and at the soccer field by 81 percent compared to metal halide equipment.
Control-Link® – Our control and monitoring system provides remote scheduling from anywhere with a smartphone app, 24/7 call center, and easy-to-use website.
The new TLC for LED™ lighting is backed by a 25-year warranty covering parts and labor, relieving park operators of maintenance concerns and costs.
Kent Stein Park Photo Gallery
More stories from musco.com