Bankers Life Fieldhouse
Indianapolis, Indiana, USA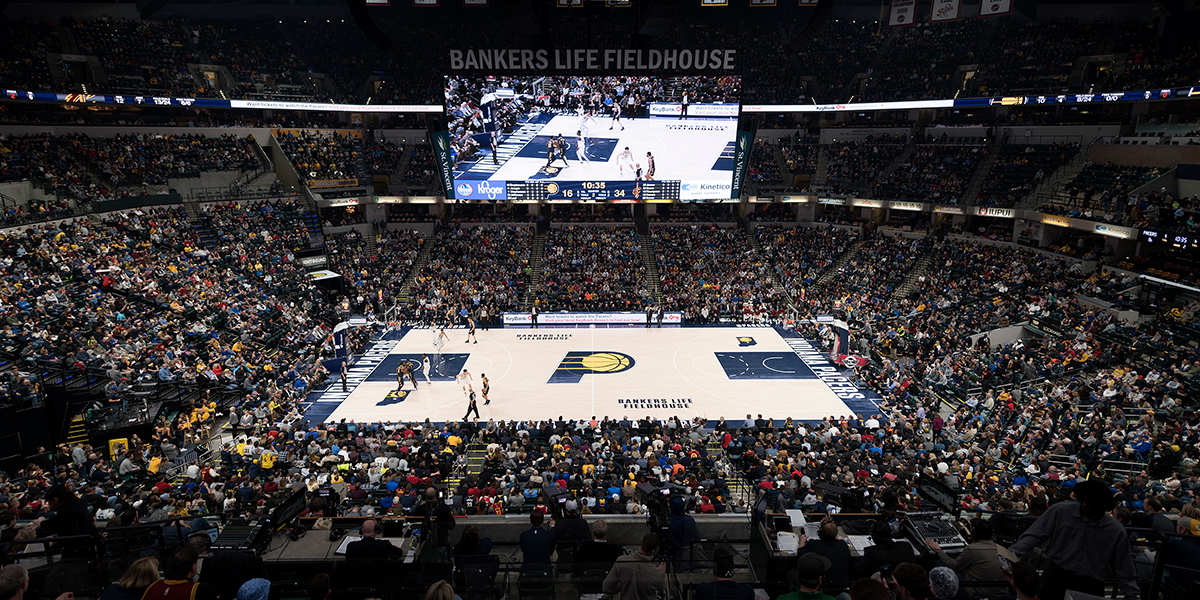 Musco's LED Technology Transforms Player and Fan Experience at Bankers Life Fieldhouse
Bankers Life Fieldhouse, home to the NBA's Indiana Pacers, is regarded by fans as "The World's Greatest Basketball Arena." In 2017, with the addition of Musco's state-of-the-art Total Light Control—TLC for LED™ lighting system, the venue got even better.
The installation of TLC for LED was a major aspect of a monumental year for the Pacers, which included a new court at the arena, a new practice facility, and new uniforms. The new LED lighting delivered a significant change to Bankers Life Fieldhouse. While the previous system illuminated virtually the entire arena, TLC for LED has created a more dramatic stage-like atmosphere for Pacers games. Key benefits include:
Transformed Experience – the system applies a whiter and more uniform light focused on the court while leaving most of the arena's seating darkened.
Improved Visibility – patented optics and glare control technology result in better visibility while virtually eliminating glare for players and spectators.
Improved Broadcasts – the lighting meets television broadcast requirements and removes the "flicker" effect that can disrupt slow-motion replays.
Customized Solution – the project involved the fabrication of custom brackets and a system that would adapt to the arena's unique architectural environment.
Additionally, with Musco's long-term warranty covering parts and labor, the Pacers won't have to worry about handling any maintenance, or paying for it, for the next 10 years.
Bankers Life Fieldhouse Photo Gallery
More stories from musco.com