Michigan State University – Spartan Stadium
East Lansing, Michigan, USA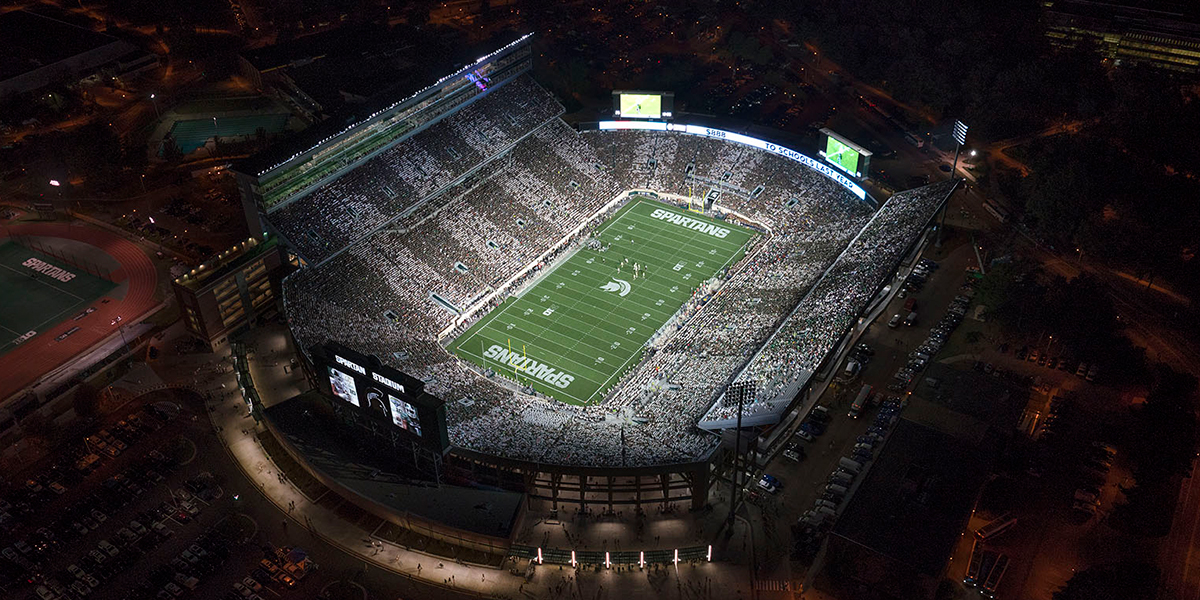 Michigan State Turns to Musco Once Again for Latest in LED Technology
"We wanted to make sure we had the best light possible. We've had nothing but positive feedback from our LED lighting installations in our basketball and hockey facilities. We wanted to stay consistent and be as energy-efficient as we could possibly be."
— Greg Ianni
Deputy Athletics Director
Michigan State
Michigan State needed a new lighting system at Spartan Stadium, home to the University's football team and site of many memorable games over the years. With additional TV requirements, and concerns about how a new system would affect the aesthetics of the centrally located stadium, Michigan State officials were looking for a lighting solution that would address those concerns and provide the latest in lighting technology, while still being energy-efficient. The university, once again, turned to Musco.
Having already installed LED lighting systems at Breslin Center and Munn Ice Arena, Musco's team of engineers designed a solution to maintain the aesthetics on campus, minimize glare, and provide superior on-field lighting.
With the installation of Musco's Total Light Control —TLC for LED™ technology, Michigan State will benefit from several key features:
Enhanced Visibility – the system virtually eliminates glare from impacting players and spectators, while enhancing the quality of light on the field as well as for television broadcasts.
Energy Efficiency – CO2 emissions will be reduced by more than 430 metric tons over the next decade compared to typical metal halide equipment.
Total Light Control – customized optics result in pinpoint precision, eliminating spill from affecting nearby campus buildings.
Cost Effective – between energy efficiency and eliminated maintenance, Michigan State will realize a savings of more than $110,000 over the next decade.
Additionally, the new LED system is backed by our comprehensive long-term parts and labor warranty that will eliminate maintenance costs.