Vancouver International Airport
Vancouver, British Columbia, Canada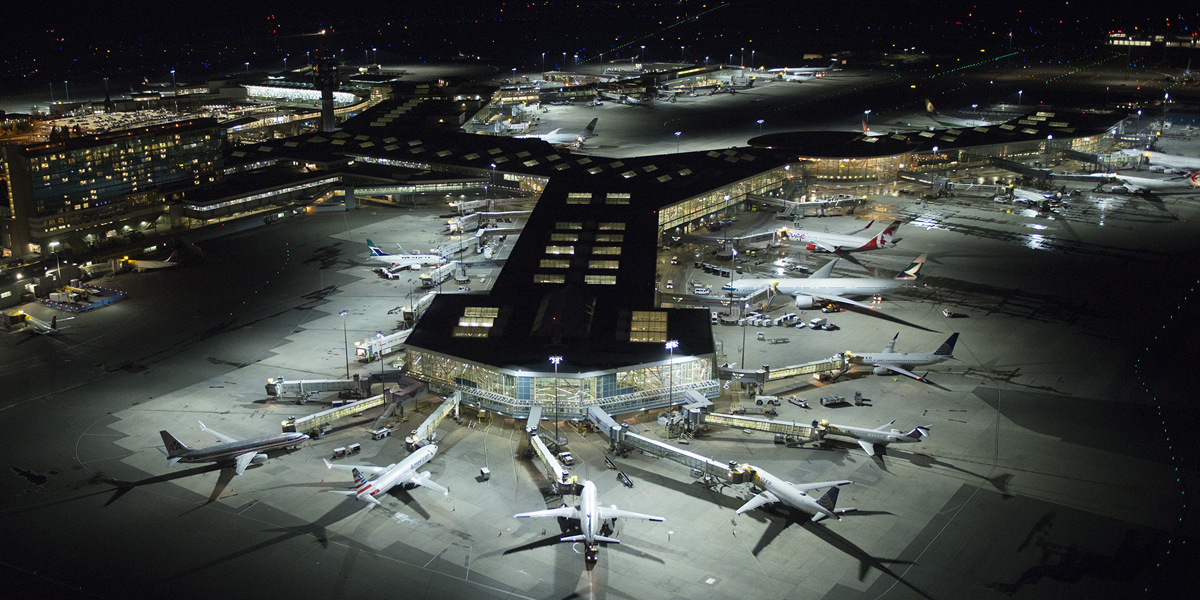 Vancouver International Airport Improves Operations and Efficiency with LED System
"Our primary objective is to operate and maintain a safe, secure and sustainable airport. The new apron lighting system significantly reduces YVR's energy consumption, while streamlining operations and improving safety with improved coverage, reduced glare and increased lighting levels. It's a win-win situation. We will continue to work collaboratively to find innovative ways to reduce energy consumption as we strive for environmental excellence."
— Don Ehrenholz
Vice President, Engineering
Vancouver Airport Authority
The Vancouver International Airport (YVR) is the second busiest airport in Canada, welcoming more than 22.3 million passengers and handling 280,000 takeoffs and landings in 2016 alone. With the existing lighting equipment at YVR, the airport dealt with high energy consumption and frequent maintenance issues that impacted the facility's operations and required staff to use lifts to change out lamps.
Airport officials began an extensive evaluation of lighting manufacturers to solve their energy and maintenance issues, along with helping to improve visibility of pilots, air traffic controllers, and grounds crew. After doing on-site testing, YVR chose to retrofit with Musco's TLC for LED™ technology bringing many benefits to the airport:
Customized System – the new lighting is custom designed and retrofitted onto the airport's existing poles
Reliable Operation – the lighting system is factory wired, aimed, and tested to streamline installation and ensure trouble-free operation
No Maintenance Costs – with a 10-year warranty that covers parts and labor, YVR won't have to worry about paying for maintenance issues for the next decade
Ease of Use – the system includes electrical component equipment located remotely, lower on the poles, providing easy access for servicing
Light Quality – the LED system delivers unparalleled quality, controlling the light with pinpoint precision without creating glare or off-site spill
Additionally, the new apron lighting is adaptive based on gate usage, meaning that lighting levels will increase and decrease based on the gate schedule in order to save power when not in use. It is expected to save 715,000 kWhrs/year, which is the equivalent of removing up to 72 residential households per year from the local utility grid.
Vancouver International Airport Photo Gallery