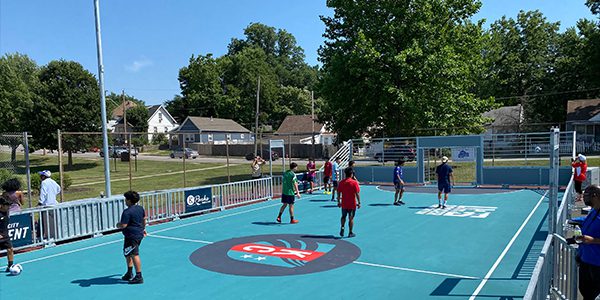 KANSAS CITY, MO – KC Current, Target, Kansas City Parks and Recreation, and the U.S. Soccer Foundation officially opened a new mini-pitch at Ashland Square Park on Friday during a festival-style event. KC Current players Kate Del Fava, Cece Kizer, and Addisyn Merrick were also on hand to participate in the festivities, speak with youth, sign autographs, and serve as celebrity coaches during the football activities. Guests from local businesses and youth from organisations such as Guadalupe Centres and the Boys and Girls Club of Greater Kansas City were also invited.
The installation of the new mini-pitch also comes off the back of another exciting facility unveiling. The Kansas City Current officially opened the team's new $18 million training complex in Riverside, MO, the first purpose facility built specifically for a National Women's Soccer League (NWSL) team. The facility is focused on all aspects of player health including training (elite weight, cardio, and recovery assets) and nutrition (high performance chef, locally sourced menus).
"I think it's important to make the mini-pitch because it gives kids an outlet to come and express their feelings and play and have an escape from their everyday," Kansas City Current defender Addisyn Merrick said.
"We are excited about our partnership with KC Current, Target and the U.S. Soccer Foundation to bring a new amenity to Ashland Square," said Chris Cotten, KC Parks Director. "This 7.5-acre (3 ha) park is part of our Quality of Life Investment District, known as QLID, a fourth maintenance district put together to help create more equity within our park system. By focusing on these 38 parks and creating amenities, such as this mini-pitch, we hope to enhance the quality of life and increase life expectancy for all residents."
"It's been an incredible experience working with the KC Current to bring this mini-pitch to life," said Ginny Ehrlich, Chief Revenue Officer at the U.S. Soccer Foundation. "Their team's dedication and community-focused approach is inspiring and only bodes well for the future of soccer (football) in Kansas City. We can't wait to see how the new mini-pitch at Ashland Square Park helps transform the soccer (football) landscape here in the Heart of America, and we look forward to working on more projects to support kids and families as Kansas City prepares to host the 2026 World Cup."
The project is made possible through funding from KC Current and Target and builds on more than 100 mini-pitches the U.S. Soccer Foundation and Target have installed together since 2018. Counting the project currently in use at Budd Park, this is also the second mini-pitch that Kansas City Parks and Recreation and the U.S. Soccer Foundation have installed within the past year.
The mini-pitch is part of a larger redevelopment of Ashland Square Park that also includes construction of a new sprayground and playground.
This mini-pitch marks the latest development in the U.S. Soccer Foundation's It's Everyone's Game national movement to ensure children in underserved communities can enjoy the health and youth development benefits of the game. To date, the U.S. Soccer Foundation has installed more than 500 mini-pitches nationwide. The goal is to install 1000 by 2026.
About the Kansas City Current
Founded in December 2020, the Kansas City Current is led by the ownership group of Angie Long, Chris Long, and Brittany Mahomes. The team competes in the National Women's Soccer League (NWSL). The Kansas City Current announced plans for the first stadium purpose-built for an NWSL team with expected completion in 2024. For more information, visit KansasCityCurrent.com.
About U.S. Soccer Foundation
The U.S. Soccer Foundation's programmes are the national model for sports-based youth development in underserved communities. Since its founding in 1994, the Foundation has established programmes proven to help children embrace an active and healthy lifestyle while nurturing their personal growth beyond sports. Its cost-effective, high-impact initiatives offer safe environments where kids and communities thrive. Headquartered in Washington, D.C., the U.S. Soccer Foundation is a 501(c)(3) organisation. For more information, visit ussoccerfoundation.org or follow us on Twitter and Facebook.
About Musco Lighting
Since 1976, Musco Lighting has led the world in the design and manufacture of sports and large area lighting solutions. The company has pioneered the most innovative systems using metal halide and LED technologies, resulting in an unparalleled ability to control glare and light spill in a way that's cost effective and energy efficient. Musco has been engineering systems around the LED for nearly a decade, and has designed permanent and temporary solutions for everything from Little League® pitches to Olympic Games. The company has earned awards including an Emmy™ for the quality of its lighting in television broadcasts and a Technical Academy Award for movie lighting. Musco's global team of experts partner with customers to plan, complete, and maintain a trouble-free solution for their facilities.