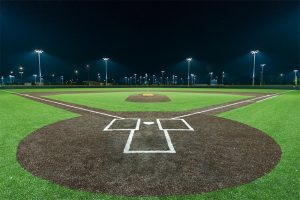 SANFORD, FL, USA–This fall, Seminole County will install Musco's Light-Structure Green™ system with an LED light source at its new sports complex. The complex is set to open in the spring of 2016.
The Seminole County Sports Complex will feature 15 pitches that host soccer, baseball, softball, and lacrosse. Musco's system will meet the individual floodlighting needs of each sport, ensuring optimised light control and energy efficiency, and will also help Seminole County meet its various goals for the project.
"We are extremely excited to announce our partnership with Musco. After looking at several options, we are confident that Musco will provide an unmatched lighting experience for the fans and players at our venue. This will help us solidify the Seminole County Sports Complex as a top tournament facility in our region, and an economic generator in our community," said Joe Abel, Director of Leisure Services, Seminole County.
The county wanted a state-of-the-art complex that provided a one-of-a-kind experience for athletes without interrupting residents in the area. The facility is located near the Orlando Sanford International Airport and a residential area, making spill light and glare major concerns. Musco will ease those concerns with a system designed to meet strict spill and glare requirements, while providing several additional benefits.
Musco's lighting solution will reduce energy consumption, deliver precise lighting control, and eliminate maintenance at the complex with Musco's long-term warranty, backed by a team of trained technicians. Seminole County will also benefit from Musco's Control-Link™ system that provides flexible control and management of each pitch with easy-to-use scheduling and reporting capabilities through web-based software and a 24/7 call centre.
"We've spent nearly a decade developing state-of-the-art optics around the LED light source that have pushed the boundaries of environmental light control, which is especially important in Florida," said Jeff Rogers, Vice President, Musco Lighting. "The new system will not only set a new standard for the ability to control light, but also dramatically improve energy efficiency and playability — with the highest quality lighting for tournament play."
The Seminole County Sports Complex will join an extensive list of facilities that have installed Musco's innovative lighting solutions using an LED light source. Those include the world's largest destination sports venue, LakePoint Sporting Community in Emerson, Georgia, USTA's Billie Jean King National Tennis Center, and the Houston Texans' NRG Stadium, among several others.
About Musco Lighting
Since 1976, Musco Lighting has led the world in the design and manufacture of sports, transportation and infrastructure lighting solutions. The company has pioneered the most innovative systems using metal halide and LED technologies, resulting in an unparalleled ability to control glare and light spill in a way that's cost effective and energy efficient. Musco has been engineering systems around the LED for nearly a decade, and has designed permanent and temporary solutions for everything from Little League® fields to Olympic Games. The company has earned awards including an Emmy® for the quality of its lighting in television broadcasts and a Technical Academy Award for movie lighting. Musco's global team of experts partner with customers to plan, complete, and maintain a trouble-free solution for their facilities.
For more information on Musco's innovative lighting solutions, visit:
www.musco.com/au