Capital University – Bernlohr Stadium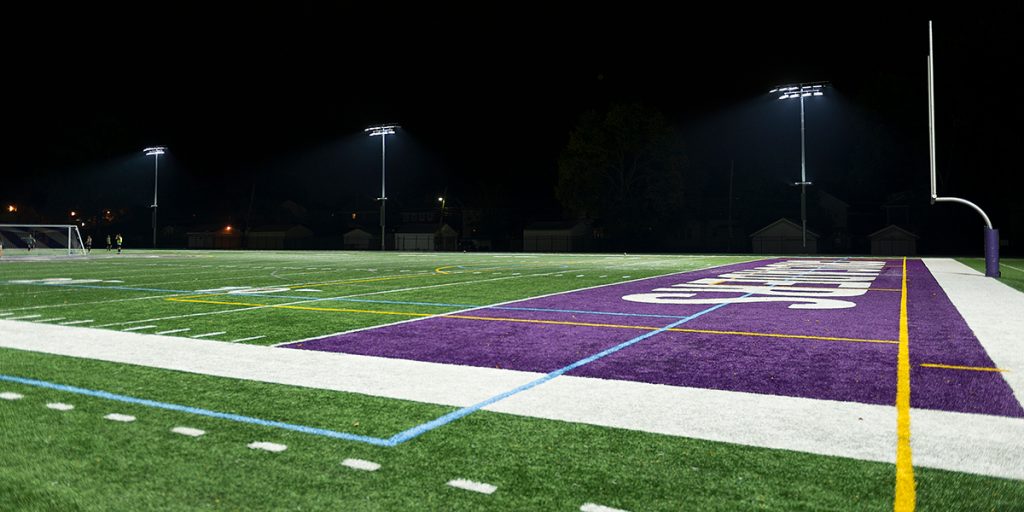 Musco's LED Lighting Solution Eases Spill and Glare Concerns
"Musco's lighting system has exceeded our expectations with regard to quality and light spill. This system has provided Capital University with the ability to host night games in a way that is minimally invasive to our nearest neighbors, yet still have 50 footcandles on our playing surface."
— Dr. Steve Bruning
Director of Athletics and Recreation
Capital University
Capital University, a private college located in a suburb of Columbus, Ohio needed lights at its football stadium, but concerns of spill and glare for area residents had prevented it from moving forward until this summer.
Officials at the university worked with Musco's team to custom-design a lighting system for its facility, Bernlohr Stadium, addressing the needs of both the neighbors and the university.
Musco's Light-Structure Green™ system provided a complete solution from foundation to poletop that includes many benefits:
Patented optics focus the light on the playing surface to improve visibility for athletes without creating disruptive spill light and glare for neighbors

Reduces energy consumption by 68 percent when compared to typical metal halide lights

Provides instant on/off capabilities to eliminate the light's warm-up time

Eliminates maintenance for the next decade with a parts and labor warranty
The system is supported by Musco's Control-Link® Controls and Monitoring system that allows for flexible scheduling of the lighting system with an easy-to-use web-based software, mobile app, and a 24/7 call center.
©2021 Musco Sports Lighting, LLC.