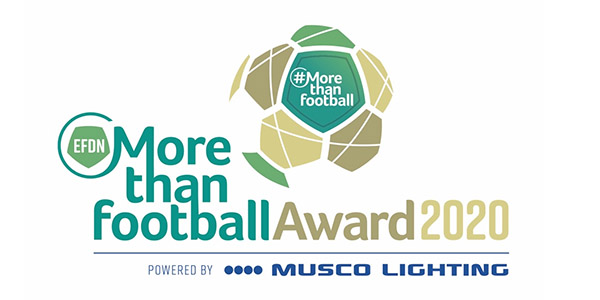 EUROPE–The European Football for Development Network (EFDN) and Musco Lighting are teaming up to promote the social power of football and have agreed to a two-year partnership. Musco becomes an EFDN Programme Partner for a new EFDN Playgrounds programme that will support clubs all over Europe to create safer mini football pitches in their communities and also becomes the naming right partner for the 2020 and 2021 More than Football Award.
The winner of the 2020 More than Football Award powered by Musco Lighting will not only receive recognition for having implemented the most innovative and impactful Community and Social Responsibility programme in European football, but they will also win a complete Mini-Pitch System™ modular sports solution. The club-branded mini-pitch will be developed in partnership between the winning organisation, EFDN and Musco.
"We are excited to assist the European Football Development Network in its mission to help clubs and organisations use football as a tool for connectivity and social development," says Jeff Rogers, President of Musco World. "The Mini-Pitch System™ will help clubs develop meaningful social programmes that can have a lasting impact in a community."
Hubert Rovers, CEO of EFDN stated: "Football clubs, leagues and FAs are delivering social programmes in communities all across Europe. Their excellent initiatives are rarely seen and they need to have safe spaces to maximise their impact of their activities. Through the partnership with Musco Lighting in the EFDN Playgrounds Programme and the More than Football Award we can provide clubs, leagues and FAs with both; support to create safe and sustainable places to play football and visibility for their social programmes."
Musco's Mini-Pitch is an all-in-one modular system that offers an ideal solution for communities to rejuvenate abandoned courts and areas with limited space, creating a fun and active place for people to come together in the spirit of teamwork, empowerment, and fitness.
The More than Football Award was introduced by EFDN to honour the best social initiatives in Europe delivered by a European club, League or FA and increase the visibility of the positive impact football has on society. It was first awarded at the 13th EFDN Conference held at the Camp Nou in Barcelona in 2019. EFDN members chose the project "Come On, Let's Play!" by Shakhtar Social for the inaugural More than Football Award. The project promotes football, social inclusion and values throughout Ukraine. Shakhtar Social delivers the project at more than 50 playgrounds in 28 different cities and towns in Ukraine.
European Football Clubs, Leagues and FAs can participate in the More than Football Award scheme by promoting their best community programmes throughout the #Morethanfootball Action Weeks (15.09.2020 – 11.10.2020). The Action Weeks are the biggest campaign on CSR (corporate social responsibility) in football.
About Musco Lighting
Since 1976, Musco Lighting has led the world in the design and manufacture of sports and large area lighting solutions. The company has pioneered lighting systems that enhance the venue and its purpose, are sensitive to the environment, and are cost-effective to own and operate. Musco has been engineering systems around the LED for more than a decade, and has designed permanent and temporary solutions for everything from Little League® fields to Olympic Games. The company has earned awards including an Emmy for the quality of its lighting in television broadcasts and a Technical Academy Award for movie lighting. Musco's global team of experts partner with customers to plan, complete, and maintain a trouble-free solution for their facilities.
For more information on Musco's innovative lighting solutions, visit:
www.musco.com/me
.