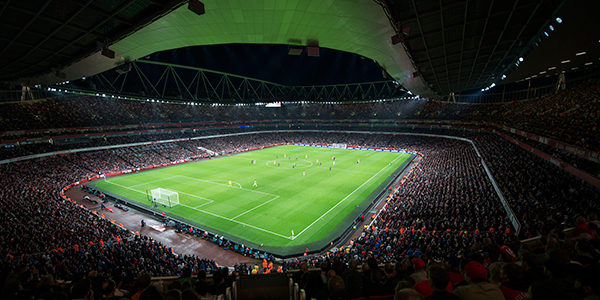 HOLLOWAY, LONDON–Arsenal Football Club unveiled Musco's new state-of-the-art LED floodlights at their first evening game of the 2015/16 season against Liverpool at Emirates Stadium.
After nine seasons at Emirates Stadium, Arsenal selected Musco to take the experience of spectators to the next level and maximise energy efficiency. With a nearly 40-year history of providing lighting solutions for premier sporting venues and events, Musco brought the innovative system and application experience that was needed to accomplish this goal.
"We've installed a state-of-the-art LED lighting solution that will create an incredible match-day experience at Emirates Stadium," said Jeff Rogers, President, Musco World. "Our lighting system provides precise light control that will significantly reduce glare for spectators and players, optimise energy consumption, and offer superior HD broadcasts."
Arsenal's Stadium and Facilities Director, John Beattie, said: "It is important for both players and fans alike that we have top-quality lighting for the club's evening luminaires and Musco's new floodlights provide just that. This will be extremely beneficial for both match days and other events that we host at Emirates Stadium."
Musco's SportsCluster™ system with LED light source will provide several benefits for players, spectators, and television HD broadcasts:
Improves the quality of light with custom optics that more effectively direct light onto the pitch and not into the players or spectators' eyes
Increases light levels by 32 per cent to meet Premier League lighting standards
Reduces energy consumption by 30 per cent compared to the prior 2000-watt metal halide floodlights
Eliminates maintenance with Musco's comprehensive 10-year warranty backed by a global team of technicians
Additionally, the characteristics of the LED light source provide instant on/off capabilities for special effects, and eliminate the "flicker" effect for excellent slow motion replay.
Emirates Stadium joins an extensive list of leading facilities that have benefitted from Musco's innovative lighting solutions, that includes the Houston Texans' NRG Stadium, the USTA Billie Jean King National Tennis Center, and Twickenham Stadium, the world's largest rugby venue.
About Musco Lighting
Since 1976, Musco Lighting has led the world in the design and manufacture of sports, transportation and infrastructure lighting solutions. The company has pioneered the most innovative systems using metal halide and LED technologies, resulting in an unparalleled ability to control glare and light spill in a way that's cost effective and energy efficient. Musco has been engineering systems around the LED for nearly a decade, and has designed permanent and temporary solutions for everything from Little League® fields to Olympic Games. The company has earned awards including an Emmy® for the quality of its lighting in television broadcasts and a Technical Academy Award for movie lighting. Musco's global team of experts partner with customers to plan, complete, and maintain a trouble-free solution for their facilities.
For more information on Musco's innovative lighting solutions, visit:
www.musco.com/me
.