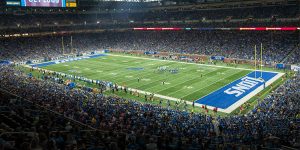 DETROIT, MI, USA–On Sunday, September 18th, Ford Field – home of the Detroit Lions – unveiled an energy-efficient LED lighting system provided by Musco Lighting for the Lions' first regular season home game against the Tennessee Titans.
"The new LED lighting at Ford Field not only improves the guest experience in terms of clearer sightlines, but allows for greater lighting flexibility for all stadium events," said Todd Argust, Detroit Lions Vice President of Operations. "Additionally, the new system uses a third of the energy in comparison to the previous lighting."
Ford Field opened its doors in 2002 as a multi-purpose venue used for Lions home games, concerts and premiere sporting events ranging from the Super Bowl to hosting college hockey's Frozen Four and college basketball's Final Four. The venue needed a solution that had the customisation to meet the unique needs of all events, while reducing energy consumption, improving light quality and enhancing the entertainment experience at the stadium. Those needs will be met with several benefits offered with the installation of Musco's SportsCluster™ system:
Visibility – Delivers precisely controlled light on the pitch with customised optics, preventing light from shining into the eyes of players and spectators
Special Effects – Interfaces with a DMX control board for special effects to provide fans with the latest in sports lighting entertainment
Efficient Controls – Provides instant on/off capabilities and dimming controls for the light output to be adjusted when full power of the system is not required
Superior Broadcasts – Eliminates the "flicker" effect during slow motion replay
The system will reduce energy consumption at Ford Field by 62 per cent compared to the prior floodlighting equipment when operated at full power. This will allow the venue to cut CO2 emissions by 4,539 metric tons over the next decade. And with a 10-year long-term parts and labour warranty backed by a team of technicians, maintenance costs are eliminated. This will reduce operating costs at Ford Field by US$1.2 million over the next decade.
"The new lighting system at Ford Field represents 40 years of continued innovation in sports lighting," said Jeff Rogers, Vice President, Musco Lighting. "We're proud to continue our partnership with the Detroit Lions and look forward to seeing the benefits that the new system will bring to the team."
Ford Fields joins a lengthy list of venues around the world that feature a state-of-the-art LED lighting solution provided by the company. The list includes the Dallas Cowboys' AT&T Stadium, and Arsenal Football Club's Emirates Stadium.
About Musco Lighting
Since 1976, Musco Lighting has led the world in the design and manufacture of sports, transportation and infrastructure lighting solutions. The company has pioneered the most innovative systems using metal halide and LED technologies, resulting in an unparalleled ability to control glare and light spill in a way that's cost effective and energy efficient. Musco has been engineering systems around the LED for nearly a decade, and has designed permanent and temporary solutions for everything from Little League® fields to Olympic Games. The company has earned awards including an Emmy® for the quality of its lighting in television broadcasts and a Technical Academy Award for movie lighting. Musco's global team of experts partner with customers to plan, complete, and maintain a trouble-free solution for their facilities.
For more information on Musco's innovative lighting solutions, visit:
www.musco.com/me
.