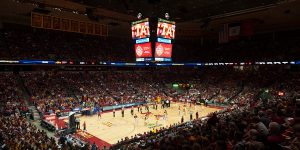 AMES, IA, USA–Iowa State University's Hilton Coliseum recently installed an LED system provided by Musco Lighting, helping the university offer a superior game-day experience, while still maximising its energy efficiency.
"The new LED lighting in Hilton Coliseum provides us with tremendous flexibility and allows us to maximise the atmosphere on gameday," said Nathan Terry, Associate Director of Marketing at Iowa State University. "Our fans have wanted this for many years and with Musco's expertise we are now able to not only turn the lights off, we can also program the lights to create a variety of scenes tied to videos and music played in the arena."
In 1971, Hilton Coliseum opened its doors as a multi-purpose venue. Hosting wrestling, volleyball, gymnastics, women's and men's basketball, the venue has long prided itself in providing an elite entertainment experience and always making its home-court presence felt. With that in mind, university officials turned to Musco for a lighting system that provided the latest in sports lighting special effects and entertainment, but also reduced the venue's environmental footprint. Musco's LED system will make that happen with the following included features:
Efficient Controls – Provides instant on/off capabilities and dimming controls for the light output to be adjusted when full power of the system is not required
Special Effects – Interfaces with a DMX control board for special effects and pre-game introductions
Visual Experience – Customised optics focuses light onto the playing surface creating a stage-like atmosphere for spectators
Cost Savings – The system will reduce energy consumption at Hilton Coliseum by 66 per cent compared to the prior floodlighting equipment when operated at full power
No Maintenance – Maintenance costs will be eliminated with a 10-year parts and labour warranty
"Hilton Coliseum has long-provided one of the most electrifying atmospheres in college sports and we're excited to help them continue to offer an unmatched visual experience for players and spectators," Jeff Rogers, Vice President of Musco Lighting. "Our system will also help the university reduce its operating costs and ensure that light is being directed precisely onto the playing surface."
Hilton Coliseum joins an extensive list of facilities around the world that feature an innovative lighting solution provided by the company. The list includes the University of Iowa's Carver-Hawkeye Arena, the University of Maryland's XFINITY Center, and Notre Dame Stadium.
About Musco Lighting
Since 1976, Musco Lighting has led the world in the design and manufacture of sports, transportation and infrastructure lighting solutions. The company has pioneered systems using metal halide and LED technologies, resulting in an unparalleled ability to control glare and light spill in a way that's cost effective and energy efficient. Musco has been engineering systems around the LED for nearly a decade, and has designed permanent and temporary solutions for everything from Little League® fields to Olympic Games. The company has earned awards including an Emmy® for the quality of its lighting in television broadcasts and a Technical Academy Award for movie lighting. Musco's global team of experts partner with customers to plan, complete, and maintain a trouble-free solution for their facilities.
For more information on Musco's innovative lighting solutions, visit:
www.musco.com/me
.