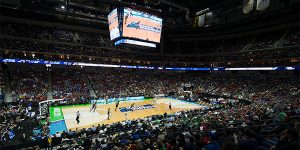 DES MOINES, IA, USA–The Iowa Events Center's Wells Fargo Arena – home to the Iowa Energy, the Iowa Barnstormers, and the Iowa Wild – will take its entertainment experience to the next level thanks to a new, innovative LED lighting solution designed and manufactured by Musco Lighting. The arena is celebrating its 10th anniversary with US$2.5 million in renovations.
"Sport lighting systems have evolved greatly over the last 10 years and it was vital for us to upgrade the lighting in Wells Fargo Arena," said Chris Connolly, General Manager, Iowa Events Center. "Global Spectrum is extremely pleased to have Musco install their new LED lighting solution as it will provide a much better experience for fans and athletes while also providing us with significant energy savings in Wells Fargo Arena."
The Wells Fargo Arena featured Musco's HID light system when it opened in 2005. Musco's proven performance and continued system development made it an easy decision for the arena to install Musco's LED lighting solution.
The new system will reduce the 16,000-seat arena's energy usage by up to 72 per cent. It also has instant on/off/dimming capabilities to further conserve energy and allow the arena to incorporate more special effects.
Nearly 170 optically enhanced luminaires will illuminate the playing surface. Each luminaire is outfitted with a custom designed reflector and optics to meet the requirements of the American Hockey League, the NBA-Development League, and the Indoor Football League. This upgrade will improve the overall playability for athletes by dramatically reducing glare, while enhancing the lighting environment for spectators and HD broadcasters.
The Wells Fargo Arena's new lighting system comes with an industry leading 10-year warranty that includes any required maintenance and is backed by a team of trained technicians.
"We've combined our LED lighting solution with sophisticated design logic to meet the needs of each sport at the Wells Fargo Arena," said Jeff Rogers, Vice President of Musco Lighting. "The new lighting solution will allow Global Spectrum to meet its ambitious sustainability and player and fan experience goals."
Musco has previously partnered with Global Spectrum at the Wells Fargo Center in Philadelphia, Pennsylvania and the PPL Center in Allentown, Pennsylvania to provide state-of-the-art LED lighting solutions that deliver reliable performance and an unmatched entertainment atmosphere for fans and athletes.
Based in Oskaloosa, Iowa, Musco is the leading authority in sports, transportation and infrastructure lighting. The Wells Fargo Arena joins a long list of sports venues to benefit from Musco's innovative LED lighting solutions, including the Houston Texans' NRG Stadium, and at the USTA Billie Jean King National Tennis Center.
About Musco Lighting
Since 1976, Musco Lighting has led the world in the design and manufacture of sports, transportation and infrastructure lighting solutions. The company has pioneered the most innovative systems using metal halide and LED technologies, resulting in an unparalleled ability to control glare and light spill in a way that's cost effective and energy efficient. Musco has been engineering systems around the LED for nearly a decade, and has designed permanent and temporary solutions for everything from Little League® fields to Olympic Games. The company has earned awards including an Emmy® for the quality of its lighting in television broadcasts and a Technical Academy Award for movie lighting. Musco's global team of experts partner with customers to plan, complete, and maintain a trouble-free solution for their facilities.
For more information on Musco's innovative lighting solutions, visit:
www.musco.com/me
.