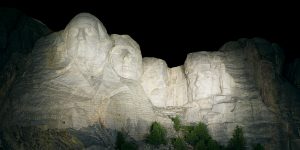 KEYSTONE, SD & OSKALOOSA, IA–The more than two million visitors who travel to Mount Rushmore National Memorial each year will now enjoy an enhanced night time viewing experience, thanks to an innovative new lighting system with an LED light source that was recently installed at the memorial. The new system, custom designed and manufactured by Musco, will result in substantially less light pollution, while dramatically improving the lighting at the national memorial and saving energy.
The project, which began in January of 2013, brought together two iconic players—the National Park Service's Mount Rushmore, one of the most recognizable memorials and parks in the world; and Musco, the global innovator in lighting solutions for monuments, major sports arenas and stadiums, and large area facilities.
"The pinpoint nature of LED technology allows the development of precise optics for optimizing light distribution for unique applications like Mount Rushmore," said Joe Crookham, President, Musco Lighting. "We are proud to have participated in enhancing night time visibility of this historic and iconic site while exceeding the sustainability goals of the National Parks."
Lighting Mount Rushmore presented a number of challenges to the Musco team throughout the project. The system needed to be engineered to project light over 1,100 feet, while directing the light to illuminate the monument, and not the mountain below. The new system accomplished this though several key features that improve efficiency and light control, including:
Advanced optic controls that highlight the aesthetics of the monument, while ensuring light is not spilled into the night sky and natural wildlife area

A custom control system that allows park rangers to precisely highlight each of the four presidents depicted in the mountainside carving, creating an even more inspiring presentation

Reducing energy consumption by 90% when compared to the previous lights
"Musco's sustainable lighting design will reduce night sky pollution, promote energy efficiency and result in an overall cost reduction. Visitors will experience new opportunities to enjoy the night sky; focused lighting will enhance habitat for nocturnal wildlife; and enrich potential for new interpretive programming," stated Mount Rushmore Superintendent Cheryl Schreier.
Karen Trevino, Chief of the Natural Sounds and Night Skies Division of the National Park Service, attended the final lighting trials, observing "Sustainable outdoor lighting is important for national parks because it combines technology, design, and practice in a way that allows parks to increase energy efficiency. The Mount Rushmore lighting project by Musco illustrates the many additional benefits that result from good lighting practices including: improved night time visibility and safety, better protection of nocturnal wildlife, and opportunities for local economic development through astronomy based tourism. For me, however, the capstone of this partnership is that the lessons we learned working with the Musco team can extend far beyond Mount Rushmore to benefit parks throughout the entire United States."
"We are thrilled with Musco's outstanding donation. The good lighting practices that have been initiated will result in energy efficiency, elimination of lighting spillover, enhanced visitor experience, and protection of cultural resources. We invite everyone to come to Mount Rushmore this holiday season and enjoy Musco Lighting's gift of light at the Shrine of Democracy," said Superintendent Schreier.
With the new lights in place, Mount Rushmore National Memorial has now joined other famed landmarks that also feature customized lighting systems by Musco, including the Statue of Liberty, the White House, and the East Span of the San Francisco Bay Bridge.
For more information on Mount Rushmore and upcoming park events, please visit www.nps.gov/moru.
About Musco Lighting
Since 1976, Musco Lighting has led the world in the design and manufacture of sports and large area lighting solutions. The company has pioneered the most innovative systems using metal halide and LED technologies, resulting in an unparalleled ability to control glare and light spill in a way that's cost effective and energy efficient. Musco has been engineering systems around the LED for nearly a decade, and has designed permanent and temporary solutions for everything from Little League® fields to Olympic Games. The company has earned awards including an Emmy for the quality of its lighting in television broadcasts and a Technical Academy Award for movie lighting. Musco's global team of experts partner with customers to plan, complete, and maintain a trouble-free solution for their facilities.
For more information on Musco's innovative lighting solutions, visit:
www.musco.com.