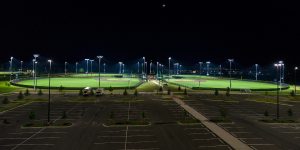 SANFORD, FL & OSKALOOSA, IA, USA–This summer, athletes from the Southeast will enjoy a one-of-a-kind tournament experience at Seminole County Sports Complex, now that the 15-pitch facility has unveiled Musco's Light-Structure Green™ LED system.
"We are extremely excited to announce our partnership with Musco. After looking at several options, we are confident that Musco provides an unmatched lighting experience for the fans and players at our venue. This helps us solidify the Seminole County Sports Complex as a top tournament facility in our region, and an economic generator in our community," said Joe Abel, Director of Leisure Services, Seminole County.
A key challenge with the floodlighting of the complex was the facility's close proximity to the Orlando-Sanford International Airport, as well as a nearby residential neighbourhood. Musco's patent-pending light management system uses customised optics to direct light with pinpoint precision without creating glare, spill, or disruptive skyglow for pilots.
Musco's 40 years of application expertise and nearly a decade of designing systems around the LED light source have resulted in a system that significantly enhances playability – improving the vision of fielders, pitchers, and batters and their ability to track the flight of the ball.
In addition to reducing glare, the lighting system will provide a variety of benefits that improve the experience of players and fans and help the county manage the facility.
Operating Costs – saves US$1,114,000 over the next decade
Visibility – enhances the player's ability to track the flight of the ball
Energy Efficiency – cuts energy consumption by 64 per cent compared to typical 1500-watt metal halide equipment
Reliability – provides a complete solution from foundation to poletop with structural, electrical, and lighting components engineered for trouble-free operation
Maintenance – eliminates maintenance with a 10-year parts and labour warranty backed by a team of area technicians
Facility Management – delivers usage reports and remote scheduling operation with Musco's Control-Link™ system via a smartphone app, 24/7 call centre, and an easy to use web site
"We've spent 40 years designing solutions to meet the unique needs of sports facilities from energy conservation to reducing installation and operating costs," said Jeff Rogers, Vice President, Musco Lighting. "Seminole County is one of the first, large-scale municipal facilities to install an LED system."
About Musco Lighting
Since 1976, Musco Lighting has led the world in the design and manufacture of sports, transportation and infrastructure lighting solutions. The company has pioneered the most innovative systems using metal halide and LED technologies, resulting in an unparalleled ability to control glare and light spill in a way that's cost effective and energy efficient. Musco has been engineering systems around the LED for nearly a decade, and has designed permanent and temporary solutions for everything from Little League® fields to Olympic Games. The company has earned awards including an Emmy® for the quality of its lighting in television broadcasts and a Technical Academy Award for movie lighting. Musco's global team of experts partner with customers to plan, complete, and maintain a trouble-free solution for their facilities.
For more information on Musco's innovative lighting solutions, visit:
www.musco.com/me
.