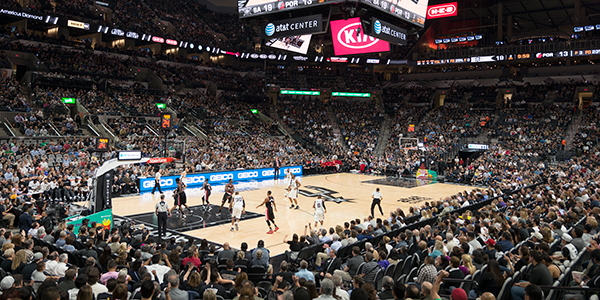 SAN ANTONIO, TX–Spurs Sports & Entertainment and Bexar County have partnered with Musco to provide the AT&T Center with new state-of-the-art LED lighting as part of the $100+ million in technology and infrastructure renovations at the AT&T Center. The new Musco custom lighting system will include more than 200 luminaires and more than 40,000 LEDs featuring advanced individual optics that will direct the LEDs with pinpoint precision to dramatically reduce glare, enhance playability for athletes, improve HD broadcasts and create a stage-like atmosphere for spectators. The increase in lighting performance will also reduce energy consumption by 78 percent.
"Technology enhancements are an important focal point of this renovation project," said Lori Warren, Spurs Sports & Entertainment SVP of Corporate Finance and Strategy. "The new lighting system is a visible improvement that will help enhance the fan experience while reducing energy consumption and maintenance costs."
"Bexar County is proud of its reinvestment into the AT&T Center and these lighting upgrades and enhancements are a great step towards improving the experience for all patrons," said Bexar County Judge Nelson Wolff.
Additional lighting system capabilities include:
Superior broadcast quality lighting without the "flicker" effect
Maintenance is eliminated with Musco's comprehensive 10-year warranty and the long-life of the LED light source
Instant on/off capabilities allow for special effects and eliminate any warm-up time for the lamps to reach full light levels
Musco's complete solution is engineered – incorporating advanced structural, electrical, and lighting components – to provide a cost-effective, trouble-free lighting system
"We've combined more than 35 years of system design and nearly a decade of research with the LED light source to provide our customers with unexpected levels of light control and reduced operating costs," said Jeff Rogers, Vice President, Musco Lighting. "We're proud to continue our relationship with the AT&T Center with the installation of this state-of-the-art system that will help the arena offer a unique experience for players and fans, while meeting sustainability goals."
Visit NewATTCenter.com for renovation updates or to view renderings and details outlining changes to the arena. The majority of the renovations are set to be completed by late October 2015.
Funding for the renovations are provided by both Spurs Sports & Entertainment and the Bexar County Visitor Tax, established by voters in 1999 to build the AT&T Center. In 2008, voters approved an extension of the tax to help fund the Tobin Center, the southern Mission Reach expansion of the River Walk, youth and amateur sports facilities, as well as improvements to the AT&T Center, Freeman Coliseum and rodeo grounds, all owned by Bexar County. The Visitor Tax is paid through a 1.75 percent hotel occupancy tax and a 5 percent short-term motor vehicle rental tax to fund construction of venues and related infrastructure that enhance economic development and tourism.
About Spurs Sports & Entertainment
Spurs Sports & Entertainment is the premier provider of sports and entertainment in South Texas. SS&E owns and operates the San Antonio Spurs (NBA), San Antonio Rampage (AHL), San Antonio Stars (WNBA), Austin Spurs (NBA Development League) and also manages the day-to-day operations of the AT&T Center.
About Musco Lighting
Since 1976, Musco Lighting has led the world in the design and manufacture of sports and large area lighting solutions. The company has pioneered the most innovative systems using metal halide and LED technologies, resulting in an unparalleled ability to control glare and light spill in a way that's cost effective and energy efficient. Musco has been engineering systems around the LED for nearly a decade, and has designed permanent and temporary solutions for everything from Little League® fields to Olympic Games. The company has earned awards including an Emmy for the quality of its lighting in television broadcasts and a Technical Academy Award for movie lighting. Musco's global team of experts partner with customers to plan, complete, and maintain a trouble-free solution for their facilities.
For more information on Musco's innovative lighting solutions, visit:
www.musco.com.