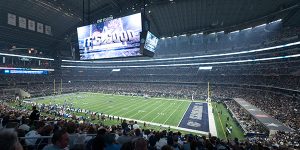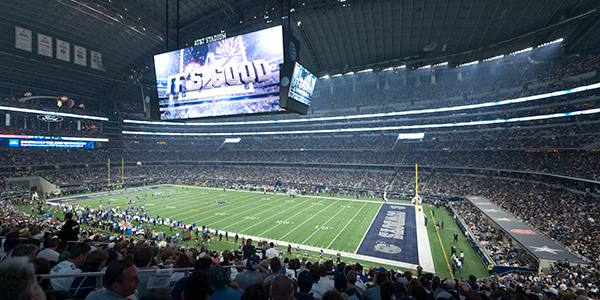 ARLINGTON, TEXAS–The Dallas Cowboys unveiled a new state-of-the-art LED lighting system provided by Musco Lighting in their home opener on September 13. The new lighting system was showcased on primetime television in football season's return this past Sunday night. As one of the largest NFL venues, AT&T Stadium opened in 2009 as the new home of the Dallas Cowboys. Featuring the world's largest center hung video board, the 80,000 seat stadium has been on the forefront of innovation.
"We are thrilled to partner with the Dallas Cowboys to deliver a solution for the lighting needs of such a prestigious venue," said Jeff Rogers, Vice President, Musco Lighting. "Our system maximizes energy efficiency, provides ideal lighting for HD television broadcasts, and includes special effects capabilities that will provide an unmatched entertainment experience."
Musco's SportsCluster® system with an LED light source will provide several benefits for athletes, fans, and HD broadcasts:
Custom optics direct light onto the field and not into the players or spectators' eyes
Reduces energy consumption by 76 percent compared to the prior lights
Increases light levels by 42 percent
Includes structural, electrical, and lighting components designed as a system for reliable, long-term performance
Eliminates maintenance with Musco's parts and labor warranty backed by a team of technicians
Additionally, the characteristics of the LED light source eliminates the "flicker" effect for excellent slow motion replay and provides instant on/off/dimming capabilities.
"As we look for ways to keep AT&T Stadium at the forefront of cutting-edge technology, Musco provided the solution for our stadium lighting needs," said Scott Woodrow, Director of Building Engineering, AT&T Stadium. "Quality and technical expertise were key in making this decision and Musco delivered on both fronts."
About Musco Lighting
Since 1976, Musco Lighting has led the world in the design and manufacture of sports and large area lighting solutions. The company has pioneered the most innovative systems using metal halide and LED technologies, resulting in an unparalleled ability to control glare and light spill in a way that's cost effective and energy efficient. Musco has been engineering systems around the LED for nearly a decade, and has designed permanent and temporary solutions for everything from Little League® fields to Olympic Games. The company has earned awards including an Emmy for the quality of its lighting in television broadcasts and a Technical Academy Award for movie lighting. Musco's global team of experts partner with customers to plan, complete, and maintain a trouble-free solution for their facilities.
For more information on Musco's innovative lighting solutions, visit:
www.musco.com
.