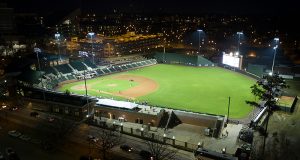 AUBURN, ALABAMA–A newly installed LED lighting system at Samford Stadium-Hitchcock Field at Plainsman Park will significantly improve the experience for Auburn University baseball players and fans, with enhanced light quality and the virtual elimination of glare.
Administrators at Auburn made the decision to install new lighting at Plainsman Park in an effort to enhance visibility for players and improve their ability to track the ball. They explored several options and visited venues at other major universities to compare the results of different LED lighting applications.
Project leaders visited facilities at a university featuring an LED system recently installed by Musco; and another university, with LED fixtures from another manufacturer. They found that the patented light control technology of Musco's Total Light Control—TLC for LED™ system far exceeded the other lighting equipment in terms of visibility and tracking the ball without being impacted by glare, and moved ahead with having the system retrofitted onto the stadium's existing poles.
"This has been my first experience with LED lighting and seeing the functionality up close. All our interactions have been positive, from the immediacy of which it powers up to the players' response on the playing surface," said Butch Thompson, head baseball coach at Auburn. "This is my 25th year in coaching and this is far and away the best lighting I have ever seen at a baseball stadium. We feel like Plainsman Park now possesses the best lighting system in America and that is a big deal to us."
In addition to the whiter, more uniform light and improved visibility on the field, Auburn will benefit from the long-term reliability of a system complete with lighting, structural, and electrical components that have been engineered to work together.
"Our goal is to provide the best facilities and experience possible for our student-athletes and fans in all of our sports," said Jay Jacobs, athletic director at Auburn. "This investment in a state-of-the-art lighting system produced by Musco will significantly enhance our baseball program, which is on the rise under Coach Thompson's leadership. I'm excited that our players will have an even better experience under the lights at venerable Plainsman Park."
Musco backs up the new lighting with a 25-year warranty that covers parts and labor, eliminating any maintenance concerns and costs for Auburn over the long term. With the system in place, CO2 emissions will be cut by 845 metric tons compared to the previous lighting, and Auburn will save more than $442,000 in energy and maintenance costs over the next 25 years.
"Auburn's project team put in a lot of work early in the process to determine exactly what they wanted and what would best meet their needs," said Jeff Rogers, Vice President of Musco Lighting. "They wanted the best results for their players and fans, and they did the research to understand the different levels of performance LED lighting can deliver. The customized system we designed for Plainsman Park will enable players to track the entire flight of the ball, improve the experience for fans, and relieve Auburn from having to worry about maintenance."
About Musco Lighting
Since 1976, Musco Lighting has specialized in the design and manufacture of sports and large area lighting solutions around the world. Musco has pioneered systems using metal halide and LED technologies that have made dramatic improvements in energy efficiency and provided affordable ways to control spill light and glare. Permanent and temporary lighting solutions range from neighborhood pitches to Olympic Games. Musco has a global team of experts that partner with customers to plan, complete, and maintain a cost-effective, trouble-free lighting solution for their facility.
For more information on Musco's innovative lighting solutions, visit:
www.musco.com
.