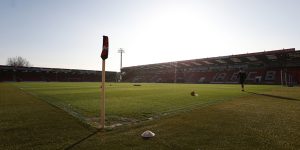 BOURNEMOUTH, ENGLAND–AFC Bournemouth has chosen Musco Lighting as its partner to install new floodlights using an LED light source at Vitality Stadium for its debut season in the Barclays Premier League.
AFC Bournemouth recently earned a promotion to the top flight for the first time in the club's history and wanted to ensure a premiere entertainment experience at Vitality Stadium for its supporters.
"We are really pleased to be working with Musco for an LED lighting system," Cherries general manager Liz Finney said. "There have been so many developments at the stadium over the summer and this is one of the most exciting. The new floodlights will provide a better matchday experience for supporters inside the ground and those watching all around the world as the club competes on a global stage."
Musco's LED lighting solution will minimise glare and maximise light usage on the playing surface to improve visibility for players and spectators at Vitality Stadium. The system will provide superior broadcast quality lighting without the flicker effect for excellent slow motion replay. While meeting the approval of the Premier League, the new system will be significantly more efficient than the prior lights. In addition to that, operating costs will be further reduced with Musco's comprehensive 10-year warranty, which eliminates maintenance for the next decade.
"We are excited to partner with AFC Bournemouth and provide a state-of-the-art LED lighting solution that will revolutionise the fan and player experience at Vitality Stadium," says Jeff Rogers, President of Musco World. "Our LED system will ensure optimal energy efficiency, reduce operating costs, and deliver the highest quality lighting."
Vitality Stadium will join an extensive list of world-class facilities featuring LED lighting solutions provided by Musco, such as Twickenham Stadium, the Houston Texans' NRG Stadium, the USTA Billie Jean King National Tennis Center, and being installed this month at Arsenal FC's Emirates Stadium. AFC Bournemouth will become the second club in the English Premier League to feature Musco's LED lighting solution.
About Musco Lighting
Since 1976, Musco Lighting has led the world in the design and manufacture of sports and large area lighting solutions. The company has pioneered the most innovative systems using metal halide and LED technologies, resulting in an unparalleled ability to control glare and light spill in a way that's cost effective and energy efficient. Musco has been engineering systems around the LED for nearly a decade, and has designed permanent and temporary solutions for everything from Little League® fields to Olympic Games. The company has earned awards including an Emmy for the quality of its lighting in television broadcasts and a Technical Academy Award for movie lighting. Musco's global team of experts partner with customers to plan, complete, and maintain a trouble-free solution for their facilities.
For more information on Musco's innovative lighting solutions, visit:
www.musco.com
.