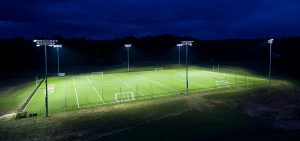 CLEMSON, SC and OSKALOOSA, IA–Clemson University's new multi-purpose recreation venue, LoConte Family Field, ushers in efficiency and light control for intramural sports with Musco's LED sports lighting system.
Having already installed Musco's innovative lighting solutions at its football, basketball, baseball, and soccer venues, Clemson turned to Musco once again for an energy-efficient lighting system that would be consistent with the university's sustainability initiative, minimize energy consumption, and maintain the natural surroundings of the facility.
"We are excited to continue our long-standing relationship with Clemson University and provide an LED lighting solution that will meet its energy efficiency needs and maintain the natural aesthetics of the area," said Jeff Rogers, Vice President of Musco. "Our system will offer the university the latest in sports recreation lighting, while reducing operating costs."
Clemson has 34 club teams and over 6,000 students who participate in the school's intramural programs. With expected high hours of usage for the facility, the university determined LED was the right way to go. Musco's system maximizes energy efficiency and will help Clemson recoup the capital cost of the system in energy and maintenance savings. The university will achieve an estimated savings of more than $100,000 in operating costs over the next 10 years.
"The Musco LED Lighting System at LoConte Family Field has allowed us to increase programming by extending hours for our intramural sports," said Chris Cox, Assistant Director of Intramural Sports, Clemson University. "Additionally, the ability to program the lights remotely is a neat feature that is especially useful at that remote property."
Musco's system will provide the university with a variety of additional benefits:
Energy Efficiency

 

– Reduces energy consumption by 63 percent when compared to typical 1500-watt metal halide equipment
Light Precision

 

– Customized optics minimize off-site spill light and glare to not disturb the natural surroundings
Efficient Controls

 

– Dimming capabilities conserve energy and adjust light power output as needed
Maintenance

 

– Eliminates maintenance costs and headaches with Musco's 10-year parts and labor warranty backed by a team of area technicians
Facility Management

 

– Delivers usage reports and remote scheduling operation with Musco's Control-Link® system via a smartphone app, 24/7-call center, and an easy-to-use website
LoConte Family Field joins a long list of facilities that feature Musco's LED lighting solutions. That list includes the Dallas Cowboys' AT&T Stadium, the San Diego Padres' Petco Park, the University of Alabama's Sewell Thomas Stadium, the University of Mississippi's Vaught-Hemingway Stadium, and Notre Dame Stadium.
About Musco Lighting
Since 1976, Musco Lighting has specialized in the design and manufacture of sports and large area lighting solutions around the world – pioneering systems using metal halide and LED technologies that have made dramatic improvements in energy efficiency and provided affordable ways to control spill light and glare. Permanent and temporary lighting solutions range from Little League® fields to Olympic Games. Our global team of experts partner with customers to plan, complete, and maintain a cost-effective, trouble-free lighting solution for their facility.
For more information on Musco's innovative lighting solutions, visit:
www.musco.com
.