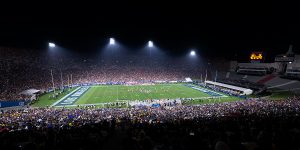 LOS ANGELES, CA & OSKALOOSA, IA–Three decades ago, as part of its preparations for hosting the Summer Olympics, Los Angeles Memorial Coliseum partnered with Musco—the Official Supplier of Lighting to the 1984 Olympic Games—for the installation of a new lighting system for opening ceremonies and track and field competition.
Now, 32 years later, the Coliseum—home to the University of Southern California Trojans and the newly relocated Los Angeles Rams—will once again shine brighter under a state-of-the-art Musco lighting system.
"The quality of the new lighting system at the Los Angeles Memorial Coliseum is ushering a whole new era for the facility and we couldn't be happier," said Brian Grant, Director of Operations at the University of Southern California. "This was a critical aspect of a significant renovation project at the stadium, and we knew we couldn't take any chances with it. Musco and ME Engineers delivered, as expected. The field looks absolutely brilliant. The precision is really amazing."
Musco has spent nearly a decade researching and engineering systems around the LED light source. That, coupled with the company's 40-year history of developing the most innovative solutions for stadiums and arenas around the world, has resulted in a revolutionary LED system that achieves a level of light control and precision that cannot be matched.
The Coliseum's new SportsCluster® system is a complete solution—incorporating structural, electrical, and lighting components. The system's custom-designed reflectors and optic controls for each LED virtually eliminate glare and wasteful spill, enhancing visibility for players and spectators while greatly improving the quality of HD broadcasts.
With the new lighting system in place, the Coliseum also will realize a significant reduction in energy consumption—cutting CO2 emissions by 288 metric tons over 10 years, which is the equivalent of taking 61 cars off the road for a year.
In addition to saving energy and reducing glare, the system creates:
Higher Light Quality – increases vertical light levels by 65 percent for better TV broadcasts and improves the uniformity of light on the field for players and TV
Lower Operating Costs – cuts operating costs with instant on/off/dimming capabilities for varied light levels
Special Effects Capabilities – interfaces with DMX controls for spectacular light shows and special effects
Eliminates Maintenance Costs – eliminates maintenance costs with a long-term parts and labor warranty
"Our team has been researching and designing sports lighting systems around LED longer than anyone," said Jeff Rogers, Vice President of Developmental Sales at Musco. "When you step onto a field that features our system you can see the difference in the quality of light, in the atmosphere it creates, and in our ability to control and apply the light with pinpoint precision. We're confident that's what the world will see when the lights go on at L.A. Memorial Coliseum. We're proud to have partnered once again with the team at the Coliseum and Morrow Meadows Corporation and Electro Construction Corporation on this historic project."
The Coliseum joins an impressive list of major collegiate and professional stadiums that have partnered with Musco in recent years on the installation of its LED system, including San Diego's Petco Park; AT&T Stadium in Dallas; Emirates Stadium, home to the Premier League's Arsenal Football Club; and Houston's NRG Stadium, which will host the 2017 Super Bowl.
About Musco Lighting
Since 1976, Musco Lighting has led the world in the design and manufacture of sports and large area lighting solutions. The company has pioneered the most innovative systems using metal halide and LED technologies, resulting in an unparalleled ability to control glare and light spill in a way that's cost effective and energy efficient. Musco has been engineering systems around the LED for nearly a decade, and has designed permanent and temporary solutions for everything from Little League® fields to Olympic Games. The company has earned awards including an Emmy for the quality of its lighting in television broadcasts and a Technical Academy Award for movie lighting. Musco's global team of experts partner with customers to plan, complete, and maintain a trouble-free solution for their facilities.
For more information on Musco's innovative lighting solutions, visit:
www.musco.com.