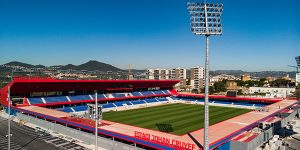 BARCELONA, CATALONIA, SPAIN–Musco Lighting is collaborating on the project Johan Cruyff Stadium in the FC Barcelona Espai Barça project, collaborating as the Football Pitch LED Lighting Supplier.
The Espai Barça is the transformation project of all the facilities that FC Barcelona has in the district of Les Corts in Barcelona, and the Johan Cruyff Stadium in the Joan Gamper Training facilities in Sant Joan Despí. The project will give value to a real estate treasure of more than 35 hectares, 19.4 in the center of Barcelona and 16.2 in the Ciutat Esportiva, 8.5 km away from the Camp Nou.
Beyond the buildings and architectural projects, the Espai Barça will be a welcoming Campus for all members, fans and all visitors.
About Musco Lighting
Since 1976, Musco Lighting has led the world in the design and manufacture of sports and large area lighting solutions. The company has pioneered the most innovative systems using metal halide and LED technologies, resulting in an unparalleled ability to control glare and light spill in a way that's cost effective and energy efficient. Musco has been engineering systems around the LED for nearly a decade, and has designed permanent and temporary solutions for everything from Little League® fields to Olympic Games. The company has earned awards including an Emmy for the quality of its lighting in television broadcasts and a Technical Academy Award for movie lighting. Musco's global team of experts partner with customers to plan, complete, and maintain a trouble-free solution for their facilities.
For more information on Musco's innovative lighting solutions, visit:
www.musco.com.