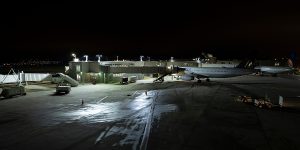 DES MOINES, IOWA–The Des Moines International Airport (DSM) has taken a major step toward reducing energy consumption at its A Concourse, while also greatly improving worker visibility in the concourse's external gate areas, thanks to a state-of-the-art LED lighting system.
The busiest airport in Iowa, DSM serviced more than 2.5 million travelers in 2017, a number that's risen by nearly 400,000 over the past five years. The airport is in the midst of a number of major renovations, and as part of those changes, DSM administrators wanted lighting to reduce energy consumption and help improve operational efficiency.
"The Des Moines International Airport is continually looking for innovative ways to develop our existing infrastructure as we prepare for additional facility improvements," said Kevin Foley, Des Moines Airport Authority Executive Director. "Musco Lighting has been a terrific partner in our search for products to maintain an efficient airport and pleasant passenger experience."
Nationwide and across the globe, an increasing number of airports are transitioning to LED apron lighting as a way to capitalize on benefits not possible with HID lighting. As this has happened, airport leaders are discovering the performance of different LED apron lighting varies greatly, with some manufacturers better able to realize the technology's potential than others.
After experiencing the performance and reliability of Musco's prior technology at the airport, DSM administrators opted to move forward with the company's Total Light Control—TLC for LED™ system retrofitted on existing poles. This innovative system has been installed in a number of major airports around the world, including the Las Vegas McCarran International Airport.
The new system provides a much whiter and more uniformly-distributed light at A Concourse, with custom optics designed around the LEDs that apply light only in the areas where it's intended, significantly improving visibility and operational efficiency of airline ground crews. Patented optics and visoring eliminate glare from negatively impacting pilots and air traffic controllers, as well as light spill from affecting passing drivers or neighboring businesses along highly-trafficked Fleur Drive.
The retrofit of Musco's LED system onto the concourse's existing poles streamlined installation and saved on costs. The system was factory-aimed, wired and tested, and the integrated electrical components and structural cross arms customized to meet the specific needs at Concourse A will deliver superior long-term reliability.
With the new LED system in place, energy consumption at the concourse will be cut by 44 percent compared to the previous lighting. The system's dimming capabilities when specific gates aren't in use further enhance energy efficiency, and a long-term warranty will relieve DSM from having to pay for any maintenance—including replacement parts and labor—for the next 10 years.
"Des Moines International Airport has been undergoing some exceptional growth and expansion with the goal of enhancing the experience for travelers and workers," said Jeff Rogers, Vice President of Musco. "The apron lighting solution at DSM has been customized to meet their exact needs, will help ground crew do their job more efficiently, and will avoid creating harmful glare for pilots and controllers in the tower."
About the Des Moines Airport Authority
The Des Moines Airport Authority is an independent entity that oversees the operations and maintenance of the Des Moines International Airport. The Airport Authority works to improve the quality of air service and make air travel to and from Des Moines more convenient and pleasurable. For more information, visit www.dsmairport.com and @dsmairport on Twitter and DSM International Airport on Facebook.
About Musco Lighting
Since 1976, Musco has shaped the history of sports and transportation/infrastructure lighting with innovations in glare reduction and light control responsible to the needs of facility owners, users, neighbors, and the night sky. Musco's TLC for LED® system technology delivers a level of light control and uniformity that can't be matched, and is the solution of choice for neighborhood fields, collegiate and professional stadiums and arenas, international airports, rail yards, the Olympic Games, iconic landmarks, and some of the largest ports around the world. Musco backs its LED solutions with a long-term warranty covering parts and labor.
For more information on Musco's innovative lighting solutions, visit:
www.musco.com
.