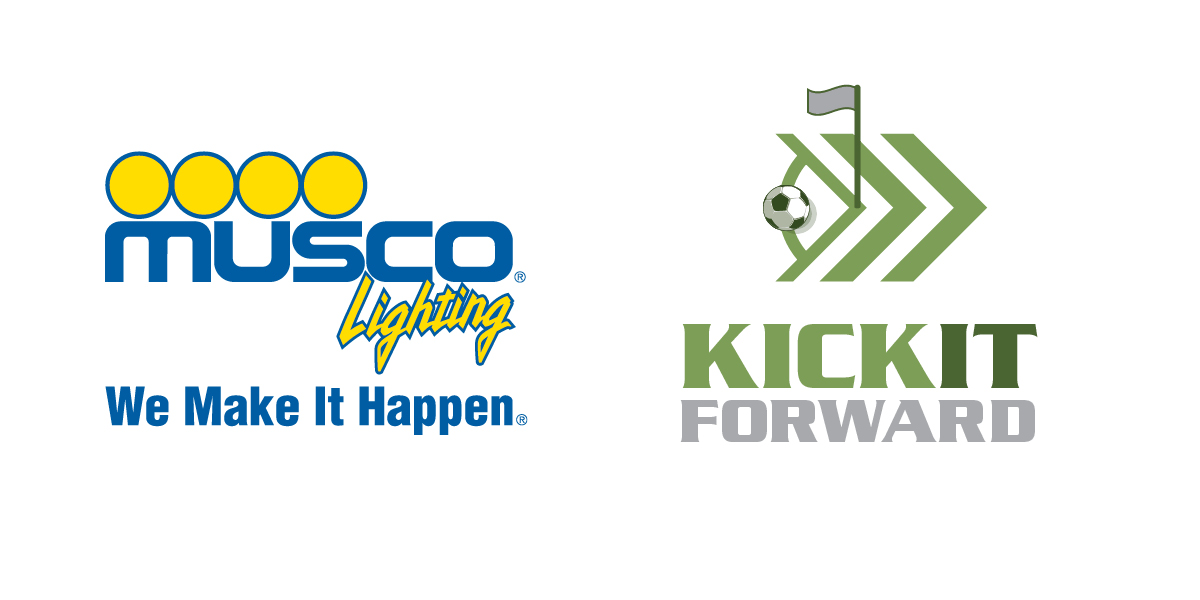 LAMONI, IOWA–Kick It Forward accomplishes another first this month with its first ever two-pitch installation in Lamoni. This project doubles the number of mini-pitches in the KIF portfolio from two to four and broadens the Mini-Pitch System ™ modular sports solution footprint to southern Iowa.
"This project means a lot to us as we are able to impact kids in a different part of Iowa. Southern Iowa has the same needs as Central Iowa, and we are delighted to continue our mini-pitch initiative. This is our first partnership with a school district and it could not have gone better. With this two-pitch system located at Lamoni Elementary School, it is a natural fit as kids will be able to use the space during the school day in addition to outside of school hours. We are constantly striving to identify ideal locations and we feel we found one at Lamoni Elementary. We have offered programming to southern Iowa youth and this is another option for the area," said Kick It Forward founder and president, Matt Sahag.
Futsal is a smaller version of soccer, typically played on a hard surface with size dimensions similar to a basketball court. Games consist of four field players plus a goalkeeper. The two-pitch system, manufactured and built by Musco Lighting in Oskaloosa, Iowa, is identical to the Birdland and Pleasant Hill systems as it includes lighting, fencing, goals and benches. However, the Lamoni Mini-Pitch System has two courts side-by-side and was assembled in less than a week.
This two-pitch system continues to solidify Kick It Forward's relationship with Musco and proves that when you partner with school districts, children can only benefit. Sahag went on to highlight the key players.
"I continue to mention our fantastic partners at Musco, and I can't say it enough—their support is essential. We have a great relationship with the Lamoni Parks and Rec Department, specifically Tim Brunner. Al Dykens and Chris Coffelt with the Lamoni School District, Tom Morain and Ozzie White with Graceland and Bill Morain were all instrumental in making this two-pitch system a reality. Without their time and support, this project would not have come to fruition. We can't thank them enough."
"This project will attract kids from surrounding communities and give them safer places to play the beautiful game. We can't wait for the Lamoni community and the neighboring communities to benefit from this project," said Sahag. "We had two firsts with this project—a two-pitch system and a partnership with a school district. We are going to continue positively disrupting the Iowa soccer scene and are not stopping at four mini-pitches."
About Kick It Forward
Founded in June, 2012 by Matt Sahag as a way to provide training to youth soccer players that wanted to improve their soccer skills while also impacting the lives of others in a positive way, Kick It Forward has evolved into an organization attempting to grow the game of soccer in a grassroots way. From covering and promoting high-school soccer matches to Soccer Talk, a podcast discussing soccer in Iowa, offering free soccer clinics and donating soccer gear to programs in need, Kick It Forward looks to continue growing the game of soccer in innovative ways. This latest venture, Musco Lighting's Mini-Pitch System™ modular sports solution, brings the vision of Kick It Forward full-circle.
Follow Kick It Forward on Twitter @kick_forward, on Facebook @kickitforwardia, on Instagram @kick.it.forward and listen to their podcast on iTunes "Soccer Talk presented by Kick It Forward".
About Musco Lighting
Since 1976, Musco Lighting has led the world in the design and manufacture of sports and large area lighting solutions. The company has pioneered the most innovative systems using metal halide and LED technologies, resulting in an unparalleled ability to control glare and light spill in a way that's cost effective and energy efficient. Musco has been engineering systems around the LED for nearly a decade, and has designed permanent and temporary solutions for everything from Little League® fields to Olympic Games. The company has earned awards including an Emmy for the quality of its lighting in television broadcasts and a Technical Academy Award for movie lighting. Musco's global team of experts partner with customers to plan, complete, and maintain a trouble-free solution for their facilities.
For more information on Musco's innovative lighting solutions, visit:
www.musco.com.