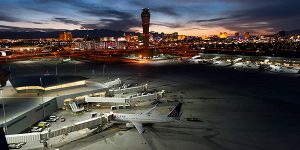 PARADISE, NEVADA–A state-of-the-art LED lighting system was installed at McCarran International Airport (LAS) which significantly enhances light quality, improves efficiency, and eliminates maintenance.
The nation's eighth-busiest airport, LAS replaced its previous high-pressure sodium lighting with energy efficient LED fixtures on more than 170 lighting poles near the airport's gates. This allows workers on the ramp to see more clearly, and more significantly, reduces glare to pilots as they maneuver aircraft in and out of the busy Las Vegas airport. The changes also reduce energy consumption by up to 50 percent while still improving lighting levels and coverage in the affected areas.
After exploring several options, LAS chose to partner with Musco—regarded as the world leader in large area lighting. Musco's LED system is complete with lighting fixtures, structural, and electrical components designed to work together, providing the airport with a reliable, trouble-free solution.
"As we embarked upon this project, the primary goals for McCarran were to maximize energy savings while increasing lighting and visibility with minimal glare," said James Chrisley, Deputy Director of Aviation, Operations. "The Musco system allowed us to achieve just that."
A key feature of the new LED system is its ability to control light in a way that creates a setting virtually identical to daytime hours in the areas intended to be lit, without spilling light or creating glare above and around the airport—a crucial consideration for pilots, air traffic controllers, and neighbors as the city continues expanding around LAS.
"The Musco team was great to work with from the beginning. They provided all of the engineering documents we needed to ensure their system would exceed design requirements," said Dustin Colwell, Engineer, Kimley-Horn and Associates, Inc. "The new lights provided better light level coverage, reduced glare, and reduced wind loading on existing poles and foundations."
Installation was handled by Helix Electric, and completed in May. Musco's system design and project management expertise helped ensure that the install didn't impact daily operations at the airport. With the system in place, the energy savings is predicted to remove the CO2 equivalent of taking 1,604 cars off the road for a year.
"We've lit several airports, and each one presents its own unique challenges," said Jeff Rogers, Vice President of Musco Lighting. "During the design process, our engineering and project management teams worked on site to understand LAS's specific ground operations and gate lighting needs to ensure we customize and apply our system in a way that achieves their lighting goals."
The project is being partially funded by a $65,000 rebate from the Nevada Energy's SureBet incentive program. The new system is backed by a 10-year parts and labor warranty, eliminating the need for LAS to handle or pay for any maintenance. With an expected savings of $1.3 million in energy and maintenance costs over the next decade.
About McCarran International Airport
McCarran International Airport is located in the shadows of the world-famous Las Vegas Strip and is the gateway for nearly half of the people who visit Southern Nevada each year. Including arrivals and departures, McCarran hosted more than 47.4 million passengers in 2016, making it the eighth-busiest airport in North America. With 30 airlines providing nonstop service to more than 130 destinations, McCarran makes it possible for the world to experience one of the most alluring travel destinations. McCarran International Airport is owned and operated by Clark County, Nevada, and does not benefit from local tax dollars.
About Musco Lighting
Since 1976, Musco Lighting has specialized in the design and manufacture of sports and large area lighting solutions around the world. Musco has pioneered systems using metal halide and LED technologies that have made dramatic improvements in energy efficiency and provided affordable ways to control spill light and glare. Permanent and temporary lighting solutions range from neighborhood pitches to Olympic Games. Musco has a global team of experts that partner with customers to plan, complete, and maintain a cost-effective, trouble-free lighting solution for their facility.
For more information on Musco's innovative lighting solutions, visit:
www.musco.com
.