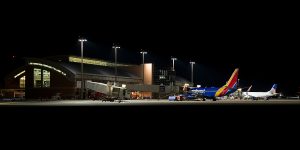 MIDLAND, TEXAS–A recently installed, state-of-the-art LED lighting system at Midland International Air & Space Port (MAF) will significantly improve operations and efficiency for pilots, air traffic controllers, and ground staff.  
Located between the cities of Midland and Odessa, Texas, MAF serves more than 500,000 passengers every year. Leaders with the Department of Airports, which operates the airport, determined that a new lighting system was necessary to increase light levels, reduce glare, improve operational efficiency, and eliminate maintenance that was becoming more frequent on the existing metal halide lighting.
"The project was of great significance to our airport and its users," said Justin Millican, Deputy Director of Airports and Security Coordinator, Midland International Air & Space Port and Midland Airpark. "The safety of aircraft operations and airport employees is paramount, and our existing lighting system was no longer serving the needs of the airport."
Officials at MAF explored a variety of options, and concluded that LED lighting would best meet the airport's needs in terms of light quality and reduced maintenance. They chose to partner with Musco, regarded as the industry leader in large area lighting, which retrofitted its state-of-the-art LED system onto the airport's existing support structures.
The ability of Musco's LED system to increase light levels while at the same time controlling and applying light precisely where needed without creating glare for pilots or air traffic controllers was a critical strength that set it apart, airport officials said.
"The design, efficiency, and coverage of the lighting system easily met and exceeded our expectations," added Millican. "The product is exceptionally reliable and vivid. Our tenants routinely express their gratitude for the superb end result of the project."
The whiter, more uniformly distributed light of the LED system will help improve operational efficiency of the airport's ground staff. By retrofitting luminaires, structural components such as custom support brackets, and electrical components like wiring harnesses that have been engineered to work together as a system—as opposed to just installing individual light fixtures—leaders at MAF look forward to a more reliable, trouble-free lighting solution.
"The team at MAF was very clear about their need to increase light levels, ensure glare doesn't impact pilots, and ease concerns about maintenance," said Jeff Rogers, Vice President of Musco Lighting. "Our engineers and project managers worked closely with them to custom design a retrofit solution that accomplished those goals by significantly improving light uniformity and quality without creating glare, and including things like remote electrical enclosures on the existing support structures for easy access to those components. And they won't have to pay for maintenance for 10 years."
MAF joins a number of airports in the U.S. and Canada that have improved their lighting with Musco's LED system.
About Midland International Air & Space Port
The Midland International Air & Space Port (MAF) is located half way between Midland and Odessa and ranked eighth in Texas for primary commercial service airports. MAF serves 43 counties in Western Texas and Eastern New Mexico, and is the closest airport to Big Bend National Park. The airport is approximately 330 miles from Dallas, Texas and 300 miles from El Paso, Texas.
Owned and operated by the City of Midland, MAF has over 28 daily departures with non-stop service to Dallas Fort Worth (DFW), Dallas Love Field (DAL), Houston Intercontinental (IAH), Houston Hobby (HOU), Las Vegas (LAS), Phoenix (PHX), and Denver (DEN). Currently, the airport is served by Southwest, Envoy (American), and United Express (United).
About Musco Lighting
Since 1976, Musco Lighting has specialized in the design and manufacture of sports and large area lighting solutions around the world. Musco has pioneered systems using metal halide and LED technologies that have made dramatic improvements in energy efficiency and provided affordable ways to control spill light and glare. Permanent and temporary lighting solutions range from Little League® fields to Olympic Games to some of the biggest airports and ports in the world. Musco has a global team of experts that partner with customers to plan, complete, and maintain a cost-effective, trouble-free lighting solution for their facility.
For more information on Musco's innovative lighting solutions, visit:
www.musco.com
.
For further information:
Midland International Air & Space Port
Justin Millican
Deputy Director of Airports
432.560.2200