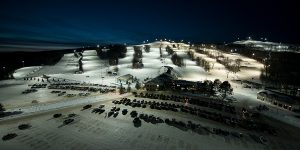 COLDWATER, Ontario & OSKALOOSA, Iowa–The nearly 300,000 yearly skiers and snowboarders at the Mount St. Louis Moonstone Ski Resort (MSLM) will enjoy an experience few other resorts in the world can match, thanks to an innovative LED lighting system by Musco Lighting. This efficient system will help MSLM conserve energy, lessen its environmental impact, extend hours for nighttime use and eliminate maintenance costs over the next decade.
MSLM truly remains a family run business after 50 years. Robert Huter, General Manager at MSLM is excited for all the new programs and high technology lighting. "Adult race, Terrain Park Jam Nights, MSLM has installed some of the best lighting systems in North America and customers are going to love it!" says Robert Hutler. Andre Huter, Director of Operations at MSLM proudly continues and says, "Guests to MSLM have come to expect the best snow conditions, great lift capacity and now they can expect those same standards at night."
Musco's history and reputation as a pioneer in customized lighting solutions with either an LED or HID light source made the company the ideal fit, as the project required both lighting sources. The first phase of the project featured Musco's Light-Structure Green™ system with an HID light source that helped MSLM meet its efficiency and budget goals. The second phase of the project provided MSLM with a complete solution from foundation to poletop with Musco's proven Light-Structure Green™ system matched with an LED light source.
Delivers lighting with pinpoint precision through advanced optics and custom-designed reflectors
Reduces energy consumption at the resort by 65 percent compared to typical floodlights
Reduces glare, resulting in a brighter, more uniform light on 36 slopes, two terrain parks, and one half pipe
Features optimized structural, electrical, and lighting components for reliable, long-term performance
Eliminates maintenance costs with a comprehensive 10-year warranty backed by Musco's global team of trained technicians
Includes Musco's Control-Link® system for solid control, performance monitoring, and management capabilities, giving the resort the ability to control the lights with a 24/7- call center with trained operators, an easy to use web site, and a web-enabled smartphone
"It has been a privilege working with the Mount St. Louis Moonstone Ski Resort to provide this cutting-edge lighting system," said Jeff Rogers, Vice President of Developmental Sales, Musco Lighting. "The skiers and snowboarders will enjoy the highest quality lighting in the world and the resort will reduce energy consumption and significantly cut operating costs."
Each year, thousands of customers count on the reliability and services offered by Musco's systems and support team. In addition to monuments and landmarks like the White House and San Francisco's Bay Bridge, Musco has installed LED systems at the home of the Houston Texans– NRG Stadium, Twickenham Stadium in England, and several NBA, NHL, and major college basketball arenas.
To learn more about the new lighting system at Mount St. Louis Moonstone, click here for a video about the project.
About Mount St. Louis Moonstone
Mount St. Louis Moonstone is one of the largest family owned ski resorts in Canada. It was founded 50 years ago by Austrian Alpine skier Josl Huter and his wife Elfriede. The resort is located in the snow belt region of Ontario. Today, it contains 36 different ski slopes in addition to 9 chair lifts and 3 carpets. The resort is known for being family friendly and prides itself on accommodating everyone, from beginner skiers and snowboarders to the most advanced in their discipline. Josl and Elfriede have marked such success in large part due to the dedication and passion of their two sons, Robert and Andre Huter and most recently their daughter-in-law Sarah Huter.
For more information on Mount St. Louis Moonstone, visit: mountstlouis.com.
About Musco Lighting
Since 1976, Musco Lighting has led the world in the design and manufacture of sports and large area lighting solutions. The company has pioneered the most innovative systems using metal halide and LED technologies, resulting in an unparalleled ability to control glare and light spill in a way that's cost effective and energy efficient. Musco has been engineering systems around the LED for nearly a decade, and has designed permanent and temporary solutions for everything from Little League® fields to Olympic Games. The company has earned awards including an Emmy for the quality of its lighting in television broadcasts and a Technical Academy Award for movie lighting. Musco's global team of experts partner with customers to plan, complete, and maintain a trouble-free solution for their facilities.
For more information on Musco's innovative lighting solutions, visit:
www.musco.com
.