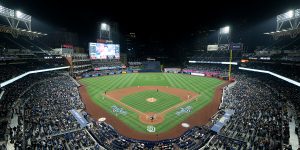 SAN DIEGO, CA and OSKALOOSA, IA–The San Diego Padres unveiled a new state-of-the-art LED lighting system by Musco Lighting at its home opener against the Los Angeles Dodgers on April 4th at Petco Park.
"The San Diego Padres are extremely pleased to partner with industry-leader Musco Lighting, with Petco Park being the first professional baseball venue to implement its LED sports lighting technology," said Mark Guglielmo, Padres vice president of ballpark operations & general manager of Petco Park. "We are proud that Musco LED sports lighting will provide not only a brighter and more uniform lighting experience for our athletes and fans, but also will make our ballpark more energy efficient. Musco's ability to install, test and commission its product during a busy non-baseball event schedule this offseason is a reflection of its experience and professionalism. We'd also like to thank Cisterra Development for its partnership on this project."
Finding a solution that would reduce spill light and glare was a priority. The SportsCluster® System with specially designed optics, cuts glare both inside and outside the stadium. This is especially important due to the venue's proximity to neighboring buildings in the heart of downtown. The system combined with Musco's 40-year application knowledge provides several benefits for athletes, fans, owners and HD broadcasts:
Improves visibility allowing for players to clearly see the trajectory of the ball
Enhances television broadcasts by eliminating the "flicker" effect during instant replays and providing a more focused light on the field
Ensures reliable performance with lighting, electrical, and structural components engineered as a complete system
Introduces show-time elements with special effects
Eliminates maintenance with a comprehensive parts and labor warranty backed by a team of technicians
Additionally, the new system will help the Padres reach its sustainability goals with a 42 percent reduction in energy consumption compared to the prior lighting equipment. This reduction in energy usage is comparable to taking 660 cars off the road for one year.
"Our LED lighting system's ability to control light has improved the environment for athletes and spectators from Little League fields to professional stadiums," said Jeff Rogers, Vice President, Musco Lighting. "Petco Park will provide one of the most unique visual atmospheres to experience America's favorite pastime."
Petco Park is the latest venue to join a long list of premier facilities that feature the company's cutting-edge LED lighting solutions. That list includes the Dallas Cowboys' AT&T Stadium, Arsenal Football Club's Emirates Stadium, and the University of Arizona's McKale Center.
About Musco Lighting
Since 1976, Musco Lighting has led the world in the design and manufacture of sports and large area lighting solutions. The company has pioneered the most innovative systems using metal halide and LED technologies, resulting in an unparalleled ability to control glare and light spill in a way that's cost effective and energy efficient. Musco has been engineering systems around the LED for nearly a decade, and has designed permanent and temporary solutions for everything from Little League® fields to Olympic Games. The company has earned awards including an Emmy for the quality of its lighting in television broadcasts and a Technical Academy Award for movie lighting. Musco's global team of experts partner with customers to plan, complete, and maintain a trouble-free solution for their facilities.
For more information on Musco's innovative lighting solutions, visit:
www.musco.com
.