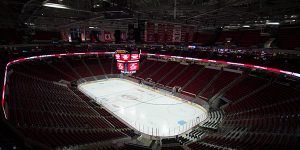 RALEIGH, N.C. & OSKALOOSA, Iowa–PNC Arena, home to the National Hockey League's Carolina Hurricanes, will usher in a new era for professional sports this season as the first NHL venue in the U.S. to feature LED lighting. The Centennial Authority has invested $650,000 in the innovative new system. This system represents the continuation of a relationship between the Centennial Authority, which owns PNC Arena, and Musco, which installed the facility's original lights when it opened in 1999.
The Centennial Authority and Gale Force Sports & Entertainment are dedicated to enriching the arena experience for guests. Replacing the Arena's formerly state-of-the-art lighting system with today's top-end product further demonstrates its focus on innovation and sustainability. Musco's lighting solution uses an LED light source manufactured by local North Carolina-based Cree, Inc.
"Musco has delivered," said Dave Olsen, executive vice president and general manager of PNC Arena. "The LED installation was on time and within budget, but most importantly has provided a product that will undeniably provide an improved viewing experience during Carolina Hurricanes hockey and NC State men's basketball games."
The new system will deliver a variety of benefits at PNC Arena—to the athletes competing, the spectators throughout the arena, and fans watching on television.
The more than 200 optically-enhanced fixtures fitted with over 20,000 LEDs effectively manage glare to improve playability for athletes and the experience for fans, while meeting NHL and NCAA requirements for TV broadcasts.

The control system has instant on/off and dimming capabilities, which will help conserve energy and allow for enhanced lighting special effects.

Musco has installed this system on several major indoor arenas and achieved significant reductions in energy consumption.

Musco's solution is engineered as a complete system to provide reliable performance.
Additionally, the LED system will align PNC Arena with the recently released 2014 NHL Sustainability Report, as well as the Centennial Authority's own sustainability goals for the Arena. The new system also will help Gale Force Sports & Entertainment realize significant utility cost savings. Musco's comprehensive 10-year warranty eliminates maintenance and maintenance-related costs, and its dedicated team of technicians provide expert maintenance and support.
"The Centennial Authority and Gale Force Sports & Entertainment are committed to providing an experience like no other at PNC Arena, and our solution will help them take a big step in that direction," said Jeff Rogers, vice president of developmental sales for Musco Lighting. "The system's cleaner, brighter, vastly superior light will enhance everyone's in-game experience, and at the same time provide a more sustainable and energy efficient solution."
Visitors to PNC Arena will enjoy their first in-game experience under the new LED lights on Sunday, September 21, when the Carolina Hurricanes host their preseason opener. Fans of the North Carolina State Wolfpack men's basketball team—which also calls PNC Arena home—will enjoy their first LED lighting experience when the team tips-off its season November 14.
For information on upcoming PNC Arena events, please visit www.ThePNCArena.com
About PNC Arena
Home to the Carolina Hurricanes of the National Hockey League (NHL) and North Carolina State University men's basketball program, PNC Arena is a multi-purpose sports and entertainment arena that hosts over 150 events each year. PNC Arena opened in October 1999 and accommodates 20,000 based on the event configuration. The arena is owned by the Centennial Authority and managed by Gale Force Sports and Entertainment. PNC Arena (www.ThePNCArena.com) is located in Raleigh, NC.
About Centennial Authority
The Centennial Authority was created by an act of the General Assembly in 1995 to study, design, plan, construct, own and operate a regional, multi-purpose facility, which was to become PNC Arena and home to tenants NC State Wolfpack men's basketball and the Carolina Hurricanes hockey franchise. Twenty-One members serve as a volunteer board appointed by leaders from the State of North Carolina, Wake County, the City of Raleigh, and the Wake County Mayors. The Chancellor of North Carolina State University serves in accordance with the authorizing statute. Since arena opening on October 29, 1999, the Authority, as owners, continue to provide facility oversight, finance monitoring, operations, upgrades, new additions and all activities associated with owner responsibility of ensuring this multi-million dollar, multi-purpose arena will remain a first-class facility for the people of the state and region that it serves.
For more information on the Centennial Authority, visit: www.centennialauthority.com
About Musco Lighting
Since 1976, Musco Lighting has led the world in the design and manufacture of sports and large area lighting solutions. The company has pioneered the most innovative systems using metal halide and LED technologies, resulting in an unparalleled ability to control glare and light spill in a way that's cost effective and energy efficient. Musco has been engineering systems around the LED for nearly a decade, and has designed permanent and temporary solutions for everything from Little League® fields to Olympic Games. The company has earned awards including an Emmy for the quality of its lighting in television broadcasts and a Technical Academy Award for movie lighting. Musco's global team of experts partner with customers to plan, complete, and maintain a trouble-free solution for their facilities.
For more information on Musco's innovative lighting solutions, visit:
www.musco.com.