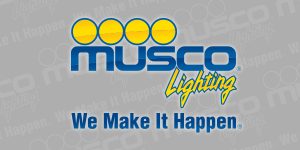 OSKALOOSA, IA–The University of Alabama's Sewell – Thomas Stadium will soon make history as one of the first NCAA baseball fields lit with an LED light source.
Familiar with Musco's innovative lighting solutions, the University of Alabama has installed Musco's lighting systems at several venues on campus including its tennis facility and the Sam Bailey Track Stadium.
Musco's Light-Structure Green™ system using an LED light source provides many benefits for players, spectators, and television broadcasts.
Musco's lighting solution will provide a variety of benefits that will help conserve energy, and improve the experience for spectators, athletes, and television broadcasts.
Improves visibility with custom optics designed to direct the light on the field and not into the players or spectators' eyes
Reduces energy consumption by 53 percent compared to the prior 1500-watt metal halide lights
Provides a complete solution from foundation to poletop in 5 Easy Pieces™ for trouble-free installation and reliable performance
Eliminates maintenance with Musco's 10-year parts and labor warranty backed by a network of Musco technicians
The LED light source offers instant on/off/dimming capabilities for additional energy savings when full power of the system is not needed such as between games or during practice.
"The Alabama Crimson Tide is setting the stage for collegiate baseball with an energy-efficient lighting solution that improves playability, enhances broadcasts, and brings a show-time element before, during, and after games with special effects," said Jeff Rogers, Vice President of Developmental Sales, Musco Lighting. "Combining the system's efficient operations with Musco's warranty, the university's operating costs will be substantially reduced."
Sewell – Thomas Stadium joins an extensive list of premier-facilities that continue to benefit from Musco's state-of-the-art LED lighting solutions. That list features NRG Stadium – home of the Houston Texans, the Denver Broncos Field House, the USTA Billie Jean King National Tennis Center, and AT&T Stadium – home of the Dallas Cowboys.
About Musco Lighting
Since 1976, Musco Lighting has led the world in the design and manufacture of sports and large area lighting solutions. The company has pioneered the most innovative systems using metal halide and LED technologies, resulting in an unparalleled ability to control glare and light spill in a way that's cost effective and energy efficient. Musco has been engineering systems around the LED for nearly a decade, and has designed permanent and temporary solutions for everything from Little League® fields to Olympic Games. The company has earned awards including an Emmy for the quality of its lighting in television broadcasts and a Technical Academy Award for movie lighting. Musco's global team of experts partner with customers to plan, complete, and maintain a trouble-free solution for their facilities.
For more information on Musco's innovative lighting solutions, visit:
www.musco.com
.