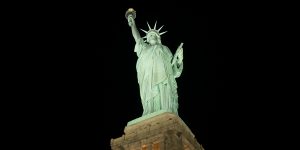 NEW YORK, NY–The National Park Service announces that the Statue of Liberty will shine as never before beginning the evening of July 7. A new lighting system will be activated at sunset, approximately 8:45 p.m., thanks to a generous donation of equipment by Musco Lighting of Oskaloosa, Iowa. Musco Lighting has had a close partnership with the National Park Service for many years. The Statue of Liberty joins numerous national treasures to be lit with Musco's innovative lighting solutions using the light-emitting diode (LED) light source. The Statue of Liberty's lighting has changed and evolved with the advancement of technology, starting with the first system of flood lights in 1916, to a system of incandescent floodlights donated by The Westinghouse Company in 1931, to mercury vapor lamps, also donated by Westinghouse, in 1944-45, to new lighting systems in time for the bicentennial in 1976, and the Statue of Liberty-Ellis Island Foundation's restoration of the Statue of Liberty and Liberty Island in 1986.
Prior to Hurricane Sandy, much of the Statue of Liberty's lighting system was housed in below ground light wells. Musco Lighting came to the Lady Liberty's aid after the storm and installed a temporary system, which has been in place since November 9, 2012.
Musco custom designed the new lighting solution with precise optics to highlight the aesthetics of the monument, while reducing the amount of light pollution being projected into the night sky. Although the LED system provides twice the brightness level of the previous metal halide lights, it reduces energy consumption by 62 percent.
"The Statue of Liberty has been an icon of freedom for nearly 130 years. After the devastation of Hurricane Sandy, we were honored to bring the monument back to light with our temporary system," said Joe Crookham, President, Musco Lighting. "With the new permanent lighting system in place, we continue our partnership with the National Parks and our shared commitment to bringing good lighting practices to the nation's parks."
"We are thrilled with Musco's outstanding donation. The good lighting practices that have been initiated will result in energy efficiency and enhance the experience of millions of people who view Lady Liberty from New York Harbor in the evening hours," said John Piltzecker, Superintendent of Statue of Liberty National Monument and Ellis Island.
With the new lights in place, the Statue of Liberty National Monument has now joined other famed landmarks that also feature customized lighting systems by Musco, including Mount Rushmore National Memorial, the White House, and Flight 93 National Memorial.
Press and Media Access on July 7
Press and media wishing attend should RSVP to Mindi Rambo, National Parks of New York Harbor, at mindi_rambo@nps.gov by noon on July 6. Media will take a Statue Cruises ferry from Battery Park to Liberty on July 7. Media will need to arrive by 7:30 for airport-style screening. Media credentials will be needed for check in. The boat will leave at 8:15 p.m. and return to Battery Park at approximately 9:30 p.m. Liberty Island grounds will be open and there will be a brief ceremony at approximately 8:45 p.m. preceding the relighting. There will not be access inside the monument.
About Statue of Liberty National Monument and Ellis Island
"The Statue of Liberty Enlightening the World" was a gift of friendship from the people of France to the United States and is recognized as a universal symbol of freedom and democracy. The Statue of Liberty was dedicated on October 28, 1886 and designated as a National Monument in 1924. Ellis Island is a former federal immigration station which processed more than 12 million immigrants between 1892 and 1954. A 1965 presidential proclamation added the island to the National Park Service as part of Statue of Liberty National Monument. It now features exhibits and programs illustrating America's immigration history.
About Musco Lighting
Since 1976, Musco Lighting has led the world in the design and manufacture of sports and large area lighting solutions. The company has pioneered the most innovative systems using metal halide and LED technologies, resulting in an unparalleled ability to control glare and light spill in a way that's cost effective and energy efficient. Musco has been engineering systems around the LED for nearly a decade, and has designed permanent and temporary solutions for everything from Little League® fields to Olympic Games. The company has earned awards including an Emmy for the quality of its lighting in television broadcasts and a Technical Academy Award for movie lighting. Musco's global team of experts partner with customers to plan, complete, and maintain a trouble-free solution for their facilities.
For more information on Musco's innovative lighting solutions, visit:
www.musco.com.