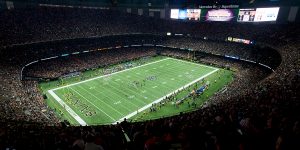 NEW ORLEANS, Louisiana–The New Orleans Saints kicked off their 2016/2017 season at the Mercedes-Benz Superdome under a new LED lighting system by Musco Lighting. The new system is part of a series of renovations with partner, Siemens Corporation, to further enhance the spectator experience and reduce energy consumption. After opening its doors in 1975, the Superdome has showcased elite sporting events, hosting seven Super Bowls, five NCAA men's basketball Final Fours, and numerous soccer, motocross, and boxing events. The installation of the new lighting system brings many benefits to the Superdome:
Improved Visibility

 

– Custom designed optics focus the light on the field without creating glare for players and spectators
Energy Efficiency

 

– Reduces energy consumption by 82 percent when compared to the prior lighting equipment
Instant Control

 

– Instant on/off capabilities eliminate the typical warm up time associated with metal halide lamps
Special Effects

 

– Creates dynamic light shows for pregame and halftime entertainment
Efficient Operation

 

– Dimming controls allow operators to adjust light output when full power of the system is not required, further reducing energy consumption
Unmatched Warranty

 

– Eliminates maintenance costs and headaches with a parts and labor warranty, backed by a team of area technicians
"We're excited to partner with Siemens to bring an energy-efficient solution to the Superdome," said Jeff Rogers, Vice President of Musco. "From improving energy efficiency to aiding in the visual experience for spectators, our system ensures a win-win approach for the Saints." The Superdome joins an extensive list of facilities around the world that feature a state-of-the-art LED lighting solution provided by Musco. The list includes the Houston Texans' NRG Stadium, the Dallas Cowboys' AT&T Stadium, and the San Diego Padres' Petco Park.
About Musco Lighting
Since 1976, Musco Lighting has led the world in the design and manufacture of sports and large area lighting solutions. The company has pioneered the most innovative systems using metal halide and LED technologies, resulting in an unparalleled ability to control glare and light spill in a way that's cost effective and energy efficient. Musco has been engineering systems around the LED for nearly a decade, and has designed permanent and temporary solutions for everything from Little League® fields to Olympic Games. The company has earned awards including an Emmy for the quality of its lighting in television broadcasts and a Technical Academy Award for movie lighting. Musco's global team of experts partner with customers to plan, complete, and maintain a trouble-free solution for their facilities.
For more information on Musco's innovative lighting solutions, visit:
www.musco.com
.