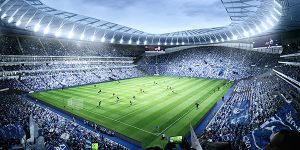 LONDON, England–Tottenham Hotspur has selected Musco Lighting as its Official Stadium Field Of Play Lighting Supplier.
As part of the relationship, Musco will provide all solutions related to lighting the pitch at the Club's new stadium to give everyone the best sight of the action.
A total of 324 floodlights will be mounted on the underside of the stadium's roof in clusters of six. The optically advanced LED system will require only 450kW of power, which is around 50% less energy consumption than a traditional metal halide floodlighting system.
The Premier League side's state-of-the-art new stadium is set to open this summer and will also play host to NFL matches, music concerts and a range of other events, creating a new world-class sports and entertainment venue for London.
The lighting meets all UEFA and NFL requirements as well as having the ability to be controlled in order to produce incredible light shows that can be used for a range of major events, helping to support the Club's commitment to creating the ultimate visitor experience for every occasion hosted at its new home.
Matthew Collecott, Director of Operations, Tottenham Hotspur said: "Musco has specialised in the design and manufacture of stadium lighting solutions for over 40 years. Their experience and ability to provide pioneering solutions for arenas and stadiums around the world gives us the utmost confidence in their capabilities to deliver the best solution for the Club's new stadium."
Jeff Rogers, Vice President of Sales, Musco Lighting said: "We are excited to partner with Tottenham Hotspur and provide an LED lighting system that will meet this iconic Club's unique needs at its new stadium. Our system will offer an enhanced entertainment experience for the fans, with superior light quality and visibility, and it will also help the Club in its efforts to reduce its environmental footprint."
About Musco Lighting
Since 1976, Musco has shaped the history of sports and large-area lighting with innovations in glare reduction and light control responsible to the needs of facility owners, users, neighbors, and the night sky. Musco's TLC for LED™ system technology delivers a level of light control and uniformity that can't be matched, and is the solution of choice for neighborhood fields, collegiate and professional stadiums and arenas, international airports, rail yards, the Olympic Games, iconic landmarks, and some of the largest ports around the world. Musco backs its LED solutions with a long-term warranty covering parts and labor.
For more information on Musco's innovative lighting solutions, visit:
www.musco.com
.