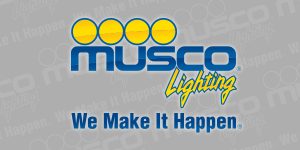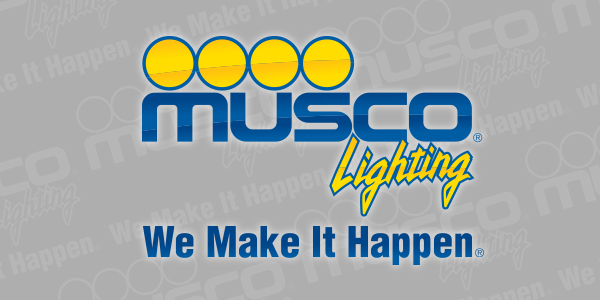 RICHMOND, BRITISH COLUMBIA, CANADA–Vancouver International Airport (YVR) will set itself apart among the top airports in the world with the installation of a new state-of-the-art LED lighting system, designed by industry leader Musco Lighting, to enhance efficiency and streamline operations.
YVR is the second busiest airport in Canada, welcoming more than 20.3 million passengers and handling 278,000 takeoffs and landings in 2015 alone. While the existing lighting at the airport meets all safety regulations, the new custom-designed LED system will deliver higher quality lighting without creating glare or off-site spill.
"We're very proud to have partnered with Vancouver International Airport on this important project," said Jeff Rogers, President of Musco World. "We've designed systems to meet the unique needs of pilots, passengers, and flight controllers. When you see the brightness and even distribution of light our system delivers, without creating glare and preserving the darkness immediately surrounding the airport, it's really impressive."
With the previous lighting system at YVR, the airport has had to deal with high energy consumption and frequent maintenance issues that would impact the facility's operations and require staff to use lifts to change out lamps. With the new LED system from Musco, YVR will benefit from:
Customized System

 

– the new lights will be custom designed and retrofitted onto the airport's existing poles.
Reliable Operation

 

– the lighting system is factory wired, aimed, and tested to streamline installation and ensure trouble-free operation.
No Maintenance Costs

 

– with a 10-year warranty that covers parts and labor, YVR won't have to worry about paying for maintenance issues for the next decade.
Ease of Use

 

– the system includes electrical component equipment located remotely, lower on the poles, providing easy access for servicing.
Light Quality

 

– the LED system delivers unparalleled quality, controlling the light with pinpoint precision without creating glare or off-site spill.
With the installation of the lighting system set to be complete by the end of the year, YVR joins a long list of airports around the world to feature Musco's lighting system, which includes Midland International Airport in Midland, Texas (LED); Luke Air Force Base in Glendale, Arizona (LED); Des Moines International Airport in Des Moines, Iowa (HID); and Fort Lauderdale International Airport in Fort Lauderdale, Florida (HID).
"We strive to be a leader in environmental management. In 2015, YVR developed a long-term energy plan that aims to reduce energy consumption and invest in alternative energy solutions," said Don Ehrenholz, Vice President, Engineering and Environment, Vancouver Airport Authority. "This new apron lighting is also adaptive based on gate usage, meaning that lighting levels will increase and decrease based on the gate schedule in order to save power when not in use. It is expected to save 715,000 kWhrs/year – that's the equivalent of removing up to 80 residential households per year from the local utility grid."
About Musco Lighting
Since 1976, Musco Lighting has led the world in the design and manufacture of sports and large area lighting solutions. The company has pioneered innovative systems using metal halide and LED technologies, resulting in an unparalleled ability to control glare and light spill in a way that's cost effective and energy efficient. Musco has been engineering systems around the LED for nearly a decade, and has designed permanent and temporary solutions for everything from Little League® fields to Olympic Games. The company has earned awards including an Emmy for the quality of its lighting in television broadcasts and a Technical Academy Award for movie lighting. Musco's global team of experts partner with customers to plan, complete and maintain a trouble-free solution for their facilities.
For more information on Musco's innovative lighting solutions, visit:
www.musco.com
.