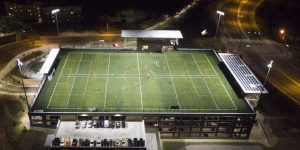 COLORADO SPRINGS, CO, USA–Musco's innovative LED lighting system has helped the University of Colorado, Colorado Springs (UCCS) solve a major issue with the surrounding community.
When floodlights were installed in 2014 at the University's Alpine Field outdoor sports facility, residents who lived in the surrounding area immediately notified UCCS. Even though the original design met horizontal spill requirements, light from the luminaire was creating glare viewed from their homes. After the original lighting supplier was unable to find a solution, UCCS contacted Musco's Colorado sales representative to meet on site to see what could be done to remedy the issue.
Within days, Musco technicians and engineers were on site examining the situation. The original floodlights were installed on four 90-foot poles at each corner of the 85,000 ft² (7900 m²) field, which is used for recreation flag football, rugby, football, and lacrosse. The challenge was to find a solution that would still use the existing poles, but would significantly reduce the amount of glare and spill light.
"We were very pleased with Musco's response," said Gary Reynolds, Assistant Vice Chancellor for Administration at UCCS. "Their representative was down here within several days, we explained the problem, and they engineered a solution using Musco's LED technology."
The solution was Musco's SportsCluster™ system, which directs light with pinpoint precision and enhances the light on the playing pitch, while dramatically reducing spill and glare.
The new system delivers to Alpine Field a cleaner, brighter, more uniformly distributed light. It has also reduced energy consumption at the facility. In fact, the new system cut energy consumption at Alpine Field by 53 per cent.
"The system that we have designed around the LED light source has allowed us to install lighting on fields in the heart of communities without negatively impacting area residents," said Jeff Rogers, Vice President, Musco Lighting. "We're proud to have worked with the university to find a solution to its problem that benefits athletes, the university, and community members."
About Musco Lighting
Since 1976, Musco Lighting has led the world in the design and manufacture of sports, transportation and infrastructure lighting solutions. The company has pioneered the most innovative systems using metal halide and LED technologies, resulting in an unparalleled ability to control glare and light spill in a way that's cost effective and energy efficient. Musco has been engineering systems around the LED for nearly a decade, and has designed permanent and temporary solutions for everything from Little League® fields to Olympic Games. The company has earned awards including an Emmy® for the quality of its lighting in television broadcasts and a Technical Academy Award for movie lighting. Musco's global team of experts partner with customers to plan, complete, and maintain a trouble-free solution for their facilities.
For more information on Musco's innovative lighting solutions, visit:
www.musco.com/we
.