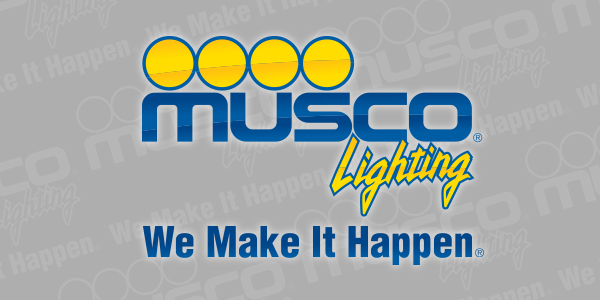 OSKALOOSA, IOWA–When the Iowa Cubs (I-Cubs)—AAA affiliate of the Chicago Cubs—debuted new LED lighting at Principal Park last season, it was an impressive showcase of how dramatically the technology can enhance the stadium experience for players and fans. The Quad City River Bandits—the A affiliate of the Houston Astros—enjoyed similar results at its Modern Woodmen Park.  
As the 2018 Minor League Baseball (MiLB) season gets underway, several more organizations will unveil LED stadium lighting and realize the benefits of improved on-field visibility, energy conservation, and exciting new special effects capabilities.
Fans will experience the difference for the first time at six MiLB stadiums this year—ranging from A to AAA level affiliates—including the North Augusta GreenJackets' SRP Park, Round Rock Express' Dell Diamond, Salt Lake Bees' Smith Ballpark, Jacksonville Jumbo Shrimp's Baseball Grounds of Jacksonville, Lowell Spinners' Edward A. LeLacheur Park, and Wilmington Blue Rocks' Frawley Stadium.
"This innovative lighting system will be a terrific addition for both the Blue Rocks and the community," said Andrew Layman, Wilmington's General Manager. "The new technology will make everything crystal clear for both the players and our fans. It will also be a huge energy saver, cutting as much as 50 percent off our energy output each season."
The use of LED lighting for stadiums and arenas has been steadily increasing in recent years. As organizations conduct extensive comparative research into a wide range of manufacturers and products, many are finding that the quality of LED sports lighting varies greatly. Like the I-Cubs and River Bandits, these six MiLB clubs chose to partner with Musco Sports Lighting and have its Total Light Control—TLC for LED™ system installed.
Key benefits include improved light levels and uniformity, allowing players and umpires to see and track the ball better; reduced energy consumption; and patented visor technology that eliminates glare from negatively affecting players and spectators.
The new lighting also is a way to offer a major league stadium experience to fans in smaller cities, as Musco's LED technology was installed at three Major League Baseball stadiums for 2018, as well as several others in the past few years. Fans will enjoy the cutting-edge light shows created by the system's DMX integration which allows individual fixtures to synchronize with music.
"We've been a partner with MiLB for long time, we know now much work those organizations put into giving the fans a memorable experience," said Jeff Rogers, Vice President of Musco. "We're glad that the decades of research we've put into developing our LED technology will help everyone see the action on the field better, and give the fans a stadium experience they won't forget."
About Musco Lighting
Since 1976, Musco has shaped the history of sports and large-area lighting with innovations in light quality, glare reduction, and light control responsible to the needs of facility owners, users, neighbors, and the night sky. Musco's TLC for LED® system technology delivers a level of light control and uniformity that can't be matched, and is the solution of choice for neighborhood fields, collegiate and professional stadiums and arenas, international speedways, and global events such as the Olympic Games. Musco backs its LED solutions with a long-term warranty covering parts and labor, eliminating maintenance concerns and costs for its customers.
For more information on Musco's innovative lighting solutions, visit:
www.musco.com.