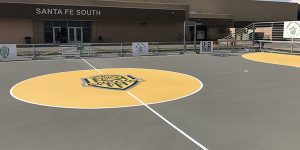 OKLAHOMA CITY, OK, USA–Energy Assist Foundation, Santa Fe South High School, Musco Lighting, and the U.S. Soccer Foundation have teamed up to unveil a new football mini-pitch in Oklahoma City on Friday, April 5th from 11:40-1:00 pm at Santa Fe South High School – 6921 Plaza Mayor Boulevard, OKC, OK 73149. The public is invited to attend.  
Built on a hard surface area, futsal courts (a.k.a. mini-pitch) are a form of football played within a fenced or walled area, often seen in high density neighbourhoods where kids may not have access to a full size football pitch.
In Oklahoma City, each new futsal court constructed by Energy Assist Foundation will provide a safe place to play, while increasing access to youth football for the kids in each community.
"We are proud to unveil a new safe place to play in our backyard here in Oklahoma City" said Mickey Dollens, Executive Director of Energy Assist Foundation. "This new futsal court will ensure Oklahoma City youth will have a safe place to play the beautiful game and cultivate critical life skills like teamwork and confidence that will help them succeed on and off the pitch. This type of collaboration gives us the opportunity to highlight our foundation's commitment to increasing the accessibility of soccer and supporting local youth programmes. Better still, thanks to Musco's generous support, many youth and adults can play for longer hours with the inclusion of new lights as part of the space."
Research indicates participation in after-school football programmes can have a significant impact on the development of teamwork skills, can motivate kids to try harder in school, and can help them avoid anti-social behaviour. The new mini-pitch at Santa Fe South High School will serve as a positive outlet for local youth to not just play football, but also develop critical life skills, boost confidence, and aid in their personal growth both on and off the pitch.
"We are pleased to be a part of a Team that is providing new opportunities for the youth of Oklahoma City. This mini-pitch project will provide opportunities for young people to enjoy activities in a Team environment," said Joe Crookham, President of Musco Lighting. "We share the vision of the Energy Assist, Santa Fe South High School, and U.S. Soccer Foundation who are passionate about expanding opportunities for youth to develop important life skills, and have fun through the sport of soccer. Creating these new playing spaces will do just that. We hope it will enrich the Oklahoma City community for years to come, and we look forward to seeing this movement continue to grow across the country."
Says Santa Fe South Superintendent Chris Brewster, "Santa Fe South is very excited to be celebrating the grand opening of our new SFS Futsal court. This court represents the premier design of its kind in the country and simply would not be possible without our partners at Energy Assist Foundation, U.S. Soccer Foundation, and Musco Lighting. Our community truly loves the Beautiful Game and we have eagerly awaited the opening of this venue. It has been designed with lighting and access so it will be available for extended hours and we hope that hundreds of young people and adults will take advantage of this court in years to come."
Added Dollens, "Energy Assist Foundation knows opportunity is crucial to youth development. We support every opportunity that gives kids a chance to play, and applaud Musco Lighting, Santa Fe South High School and the U.S. Soccer Foundation for creating this opportunity."
About U.S. Soccer Foundation
The U.S. Soccer Foundation's programmes are the national model for sports-based youth development in underserved communities. Since its founding in 1994, the Foundation has established programmes proven to help children embrace an active and healthy lifestyle while nurturing their personal growth beyond sports. Its cost-effective, high-impact initiatives offer safe environments where kids and communities thrive. Headquartered in Washington, D.C., the U.S. Soccer Foundation is a 501 (c)(3) organisation.
About Energy Assist Foundation
Mission Statement: The purpose of Energy Assist Foundation is to encourage and support youth sports and community initiatives that improve the quality of life in Oklahoma and help children reach their full potential through positive experiences and role models. Headquartered in Oklahoma City, OK, the Energy Assist Foundation is a 501(c)(3) charitable organisation.
About Musco Lighting
Since 1976, Musco has specialised in the design and manufacture of sports, transportation and infrastructure floodlighting with innovations in light quality, glare reduction, and light control responsible to the needs of facility owners, users, neighbours, and the night sky. Musco's Total Light Control – TLC for LED™ system technology delivers a level of light control and uniformity that can't be matched, and is the solution of choice for neighbourhood pitches, collegiate and professional stadiums and arenas, international speedways, and global events such as the Olympic Games. Musco backs its LED solutions with a long-term warranty covering parts and labour, eliminating maintenance concerns and costs for its customers.