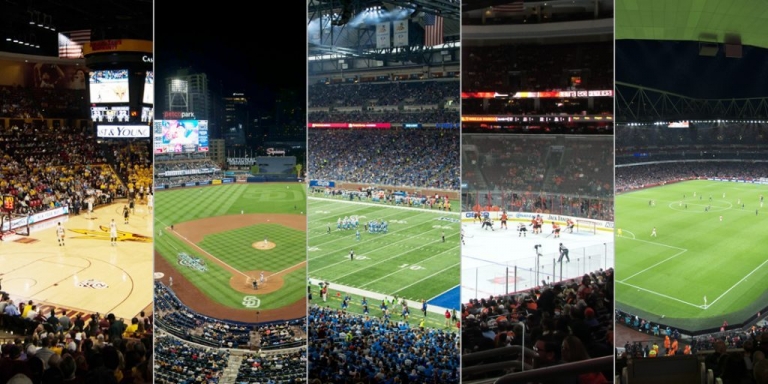 Every sports floodlighting project begins with questions. How much light is enough? Is LED right for you? How can costs be kept down and neighbours kept happy?
Sports venues have specialised needs when it comes to floodlighting. We've helped thousands of partners get the answers they need—from identifying funding resources, to system design, to installation and long-term service.
A Proven System
Our LED sports floodlighting—as well as our HID solutions—for new and retrofit projects incorporates lighting, structural, and electrical components, provides streamlined installation, trouble-free operation, and long-term reliability.
Outdoor Floodlighting
Designed in 5 Easy Pieces™ as a complete system from foundation to pole top, Light-Structure System delivers superior light control, is energy efficient, simplifies installation, and ensures better reliability.
Learn more
For facilities that have existing poles, specialty-use poles, or roof-mounted structures, our SportsCluster™ system delivers the same pinpoint precision and energy reduction.
Learn more
Indoor Floodlighting
Virtually eliminating glare, reducing energy consumption, and enhancing special effects lighting, SportsCluster™ system has transformed major indoor arenas across the globe.
Learn more
Musco provides an energy-efficient solution for small arenas and gyms with multiple energy and light levels, providing flexibility and cost effectiveness.
Learn more
Special Effects Lighting
Providing a cost-effective way to bring professional-level light shows to your venue, our Show-Light™ entertainment package will energise players and fans and create a more memorable game atmosphere. The Show-Light+® package allows lights to be synchronised to music for an amazing audio and visual experience.
Learn more
Facility Solutions
The only system monitoring service of its kind, Control-Link™ lets you schedule and control your lights from a smart phone, web page, or our 24/7 call center, and enables us to know when a problem arises before you do.
Learn more
Our mini-pitch system—complete with floodlighting, fencing, and goals—offers a modular sports solution to turn small and abandoned spaces into a place for youth play football, build confidence, and have fun.
Learn more
Services
Our patented solutions can be customised to meet your unique needs through our special build and fabricating capabilities.
Learn more
Our team of technicians can be on site to perform anything from light level testing to maintenance for out of warranty systems.
Learn more